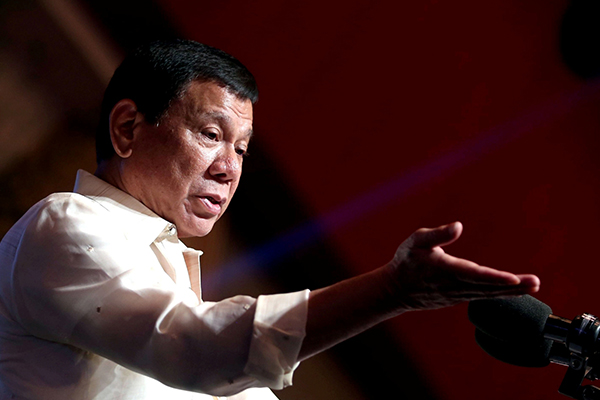 President Rodrigo Duterte kept his hands off the appearance of his son and son-in-law at the hearing of the Senate Blue Ribbon committee last Thursday on the smuggling of P6.4 billion worth of shabu from China more than three months ago. Alfred Frias/Presidential Photo,File
Trillanes still throwing garbage at us – Rody
(The Philippine Star) - September 8, 2017 - 4:00pm
DAVAO CITY, Philippines — President Duterte kept his hands off the appearance of his son and son-in-law at the hearing of the Senate Blue Ribbon committee last Thursday on the smuggling of P6.4 billion worth of shabu from China more than three months ago.
But yesterday during a speech, he took a jab at Sen. Antonio Trillanes IV, describing the lawmaker as someone who continues to collect garbage to throw at him and his family.
"Now he is after my son. Hangtud karon nangita lang gihapon ug basura unya karon adto na pud sa akong anak. Election pa lang ginainitan na niya si Polong (Until now, he looks for garbage and this time it is to throw at my son. He has been angry with him since election time)," Duterte said, referring to his son Paolo, Davao City's vice mayor.
"But he was never able to produce any evidence. I even dared him to let everything out in the open and I will withdraw my candidacy. And now that I am already President, he is going after my son," Duterte added.
The President reiterated that he would step down if a person would come forward and say he gave money to Paolo in exchange for favors.
Paolo and his brother-in-law Manases Carpio attended the Senate hearing where they were queried on their alleged involvement in the smuggling activities at the Bureau of Customs (BOC).
Both denied any involvement in the mess as their counsel, lawyer Rainier Madrid, pointed out that Trillanes repeatedly tried but failed to link his clients to smuggling by using a hodge-podge of pictures taken from social media, documents of questionable origin and a so-called intelligence report.
Madrid, also Paolo's spokesman, added that the President did not meddle in the hearing and has been clear in his public pronouncements for Paolo and Carpio, husband of presidential daughter and Mayor Sara Duterte, to just tell the truth.
"Unfortunately, his (Trillanes) only play is propaganda, trying to manipulate the people's minds. So he resorts to fishing for information because he has nothing," Madrid said.
He vowed to not allow Paolo to be humiliated or lured into playing Trillanes' game, including the attempt to have the vice mayor take off his shirt and show his tattoos – a request that Paolo denied, citing his right to privacy.
At the Palace, presidential spokesman Ernesto Abella said that Trillanes has been dragging the name of Duterte and his family and tried to link it to smuggling and illegal wealth since the campaign period.
He thanked that Senate committee for giving Paolo and Carpio the chance to clear their names.
"We caution against a particular one, who made baseless claims of purported bank accounts and body markings and then prodded witnesses to disprove his claims instead of presenting validating proofs. His tactics had been foisted on public and media time and again. And the only way to stop this is to demand proof from anyone making baseless claims," Abella said.
Trillanes claimed he received an intelligence report from a foreign government that said Paolo has a dragon tattoo on his back, indicating that he is a member of the Chinese triad. Asked how a triad tattoo looks like, Trillanes told reporters after the hearing to search it on Google.
He presented pictures of Paolo and Chinese businessmen Charlie Tan and Kenneth Dong, who was recommended charged by the National Bureau of Investigation for the shabu shipment.
Dong has admitted to having taken numerous selfies with celebrities and other prominent people, including Sens. Risa Hontiveros and Francis Pangilinan.
Tan, on the other hand, was implicated in smuggling by Sen. Panfilo Lacson during a privilege speech two weeks ago.
Meanwhile, Mayor Sara Duterte took to Facebook and Instagram to react to the move to have her brother Paolo strip to show a dragon tattoo.
She produced a picture of her and brothers Paolo and Sebastian that showed their backs and the tattoo on the back portion of their legs.
The mayor also showed another picture of a tattoo and asked Trillanes and the United States Drug Enforcement Agency (USDEA) to decode it for her. – Edith Regalado Paolo Romero, Christina Mendez