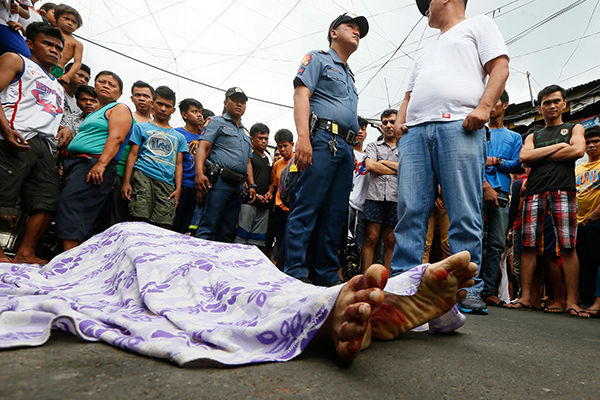 The Senate is set to conduct an investigation into the spate of gruesome killings of minors and teens partly attributed to the Duterte administration's war on drugs. AP Photo/Bullit Marquez, File
Senate to probe killing of teens
Paolo Romero
(The Philippine Star) - September 8, 2017 - 4:00pm
MANILA, Philippines — The Senate is set to conduct an investigation into the spate of gruesome killings of minors and teens partly attributed to the Duterte administration's war on drugs.
The inquiry was prompted by a resolution filed by Sen. Grace Poe, who said there could be a need to re-evaluate and reinforce the rules of engagement of the Philippine National Police (PNP).
She cited the numerous cases of gruesome deaths of minors and teens, often described by authorities as "collateral damage" and "isolated incidents" in the administration's drug war, but she said these must be considered heinous crimes no matter how few and rare.
The senator cited the killings of Kian Loyd delos Santos, Carl Angelo Arnaiz and recently, Arnaiz's companion, 14-year-old Reynaldo de Guzman, who was found in Gapan, Nueva Ecija with multiple stab wounds and head wrapped in packing tape.
It was also reported that 54 youth aged 18 years old and below have been killed so far in either police operations or vigilante-style killings since July 2016.
"It is imperative to determine whether these killings were arbitrary executions caused by excessive, disproportionate and illegitimate use of force of law by law enforcement officers," Poe said.
"Before we plummet into chaos and utter savagery, the recent brutal deaths of Kian, Carl and Reynaldo, and of the other youth victims who came before them, should serve as a wake-up call and a reminder that we are a country of laws and morals," she said.
She called for speedy resolution of their cases, prosecution of law enforcers involved and reminded that these should serve as a wake-up call to authorities to protect minors and children.
Presidential spokesman Ernesto Abella said yesterday that the Palace will not prevent the PNP from attending inquiries related to the latest killings involving minors and teenagers.
Abella said President Duterte has been "very concerned and deeply protective of the next generation" and he will make sure that those responsible for the teen killings will be put behind bars.
"I don't know if you call it a crisis. But of course it's a deep concern… this is a growing concern," Abella said.
"It needs to be investigated to actually determine what seems to be behind these events. It needs to be investigated. Of course, it's a deep concern. Like we said earlier, any death, any violent, even just one single violent death is a call for concern, especially with the younger ones," Abella added.
The Senate committee on public order and dangerous drugs, chaired by Sen. Panfilo Lacson, has been conducting an inquiry into the surge of drug-related killings last month.
Poe also urged authorities to exercise restraint and care in dealing with children in conflict with the law (CICL), consistent with Section 6.1, Chapter 3 of the PNP's manual in handling cases of children at risk and CICL.
The manual provides that the use of instruments of force or restraint like handcuffs may only be applied when absolutely necessary and only after all other methods of control have been exhausted and have failed.
Under the same manual, the use of unnecessary violence and force against the child is prohibited without exception and the use of unnecessary violence and force is considered a criminal offense.
"Given these increasingly gruesome deaths, we must ensure that the operational protocols of law enforcement agencies strictly adhere to the enshrined rights in our laws and international conventions," Poe said.
She reiterated her call for authorities to establish appropriate protocols, conduct better training in dealing with possible CICL, require the wearing of body cameras for police operations, secure scenes of crimes and protect CCTV footage and witnesses.
She also referred to the provisions of the Constitution, Convention on the Rights of the Child and Republic Act No. 9344 or the Juvenile Justice Act, which point out that there should be due process and they should not be subjected to torture or any inhumane treatment.
The Department of Social Welfare and Development (DSWD) also expressed alarm yesterday over the killings of children.
DSWD Undersecretary Hope Hervilla said since the DSWD is the national government's primary agency addressing social welfare issues, the department cannot remain silent on the issue of the killings of children.
PAO to file murder raps next week
Public Attorney's Office chief Persida Rueda Acosta said yesterday the PAO intends to file next week a double murder case and two counts of violation of the Anti-Torture Act against PO1 Jeffrey Perez and PO1 Ricky Arquilita of the Caloocan City Police and other unidentified respondents for the killing of Arnaiz and De Guzman.
She said the PAO decided to treat the two incidents as one case since Arnaiz and De Guzman went missing on the same day, Aug. 17.
Acosta also said that members of the immediate family of Arnaiz and De Guzman have been placed under the witness protection program (WPP) of the Department of Justice.
"The full WPP for the family of Carl Angelo Arnaiz became effective, while the family members of Reynaldo 'Kulot' de Guzman are now covered by the provisional WPP so they have already been given security. But the immediate family of Kulot would have full coverage of the WPP after he has been laid to his final resting place," Acosta said.
DILG: Police recruitment under review
Following the involvement of policemen in the spate of killings of teenagers, the PNP recruitment process is being reviewed to prevent the entry of scalawags, said Catalino Cuy, officer-in-charge of the Department of the Interior and Local Government (DILG).
Cuy said an oversight committee is conducting a review to prevent the entry of recruits who may later turn into scalawags.
"We are reviewing from recruitment, training and deployment," Cuy told reporters after the 51st anniversary celebration of the National Police Commission (Napolcom) in Quezon City.
Among these is the proposal for the PNP to be given authority to train its own members. Currently, the Philippine Public Safety College supervises the training of recruits. – With Christina Mendez, Evelyn Macairan, Emmanuel Tupas, Rainier Allan Ronda