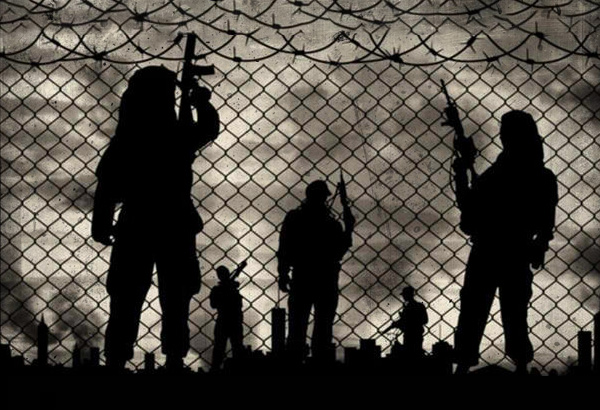 A notorious Abu Sayyaf member transporting bomb-making materials was captured by the military on Thursday night. File
Abu Sayyaf member transporting bomb-making materials captured in Sulu
Roel Pareño
(philstar.com) - September 8, 2017 - 8:40am
ZAMBOANGA CITY, Philippines — Government troops captured a notorious member of the Abu Sayyaf Group while transporting bomb making materials in Patikul town, Sulu on Thursday night, a security official said.
Brig. Gen. Cirilito Sobejana, commander of Joint Task Force Sulu, identified the captured militant as Milham Saham, 24, a henchman of senior Abu Sayyaf group leader Radullan Sahiron.
Sobejana said the suspect was intercepted by troops from the 45th Infantry Battalion at about 6 p.m. Thursday in a checkpoint established in Barangay Buhanginan, Patikul town.
"The troops conducted a checkpoint following [an] intelligence tip about the movement of the Abu Sayyaf group which resulted [in] the arrest of the suspect," Sobejana said.
The troops recovered from Saham several components of an improvised explosive device including ammunition nitrate fuel oil, a detonating cord, electrical wires, electrical tapes and circuit assembly.
Sobejana said that Saham, who was previously associated with the groups of slain Abu Sayyaf sub-leaders Hairulla Asbang and Alhabsy Misaya, was positively identified as one of the henchmen of Sahiron during a tactical interrogation.
The suspect, who is known by residents of Barangay Buhanginan as member of the terror group, was also linked to the group of his cousin and sub-leader Alden Bagadi alias Sayning.
The arrest of the suspect brought the number of captured Abu Sayyaf members to 74.
Since January this year, when troops were ordered to crust the terror group in Sulu and Basilan, 122 fighters have been killed while 103 others have surrendered.
Lt. Gen. Carlito Galvez Jr., the Western Mindanao Command chief, said that the focused operations against the Abu Sayyaf group were not affected by their ongoing offensive against the pro-Islamic State Maute Group in Marawi.
"All means are exhausted by the ground troops to neutralize the bandits who are responsible for the series of kidnappings and atrocities in the joint area of operations," Galvez said in a statement issued by WESTMINCOM.
He said troops in Basilan and Sulu continued their relentless pursuit operation against the Abu Sayyaf group.