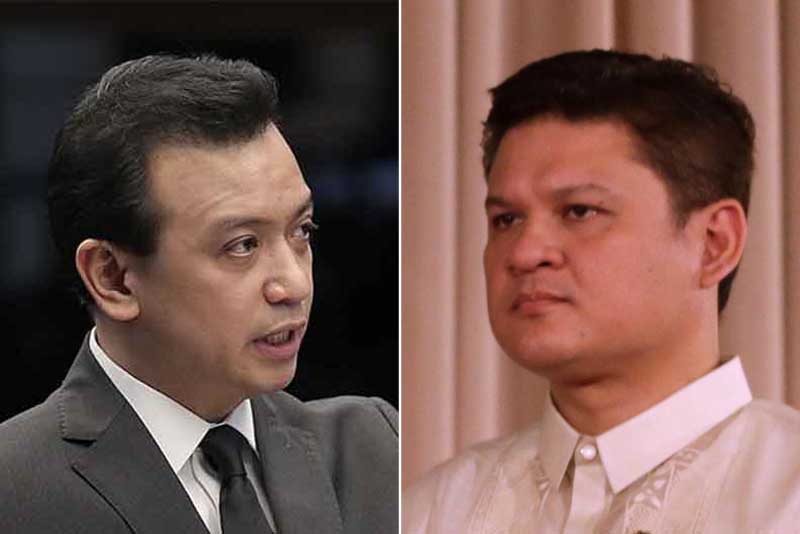 Sen. Antonio Trillanes accused Davao City Vice Mayor of having bank accounts containing hundreds of millions of pesos. File
Trillanes accuses Paolo Duterte, Carpio of having hundreds of millions in bank accounts
MANILA, Philippines (First published Sept. 8, 2017; 12:01 a.m.) — Sen. Antonio Trillanes IV on Thursday accused the son and the son-in-law of President Rodrigo Duterte of having bank accounts containing hundreds of millions of pesos as the Senate panel investigation into the entry of hundreds of kilos of illegal drugs continues.
Vice Mayor Paolo Duterte and lawyer Manases Carpio, the husband of Davao City Mayor Sara Duterte-Carpio, appeared before the Senate Blue Ribbon Committee, which has been holding hearings into the entry of P6.4 billion worth of methamphetamine or shabu into the country.
Trillanes asked the two individuals accused of being part of the Davao Group, which allegedly wields a lot of influence over the Bureau of Customs, about their ownership of bank accounts which the senator claimed contain hundreds of millions of pesos.
The senator, who belongs to the Senate minority and is one of the fiercest critics of the president, claimed that the chief executive's eldest son had more than P104.28 million in various bank accounts in Davao City.
Carpio and his wife Sara meanwhile have more than P121.1 million deposited in various banks in Davao City and other locations in the country, according to Trillanes.
The two refused to confirm or deny the existence of the bank accounts and the money. They also turned down Trillanes' challenge for them to sign a waiver that would authorize the scrutiny of the said accounts.
During Thursday's hearing, Trillanes initially asked Duterte if he had an account at the Philippine National Bank branch in Sta. Ana, Davao City.
The Davao vice mayor invoked his right against self-incrimination in refusing to answer the senator's queries.
"Bakit niyo nire-refuse? It's up to us to determine if this is irrelevant or not?" the senator asked.
"This is not part of the inquiry," according to the vice mayor.
Carpio, who was accused of appearing before the office of former Customs Commissioner Nicanor Faeldon to allegedly fix the problem of his client, also invoked his right against self-incrimination when asked about their purported bank accounts.
"The total here is as of late 2015 is P121 million. Do you admit or not that you have such an amount?" said Trillanes.
"I invoke the Bank Secrecy law," a smirking Carpio said. Under Republic Act No. 1405, bank deposits are "absolutely confidential nature and may not be examined, inquired or looked into by any person, government official, bureau or office" without written permission from the account owner or a court order.
Trillanes retorted: "Magtatago ka rin lang pala, tatawa ka pa."
Carpio said that he was disputing the figures presented by Trillanes who challenged them to sign the waiver form he prepared.
"I'm not willing to sign the waiver. I'm not familiar with those figures," Carpio said.
Duterte: "I have the same answer. I will not sign the waiver."
'Triad' tattoo
The appearance of Duterte and Carpio before the Senate came after a heated and sometimes personal verbal tussle between Trillanes and Sen. Richard Gordon, the panel's chair, during its previous hearing.
The minority senator accused Gordon, an ally of the president, of shielding Duterte and Carpio by refusing to invite based on what the chairman described as "hearsay."
The debate of the two escalated further with Trillanes accusing the panel of becoming a "committee de abswelto." This led Gordon to file an ethic complaint against Trillanes.
Trillanes said on Wednesday that he would also file an ethics complaint against Gordon.
Duterte was also accused of being a member of a triad — a Chinese secret society and syndicate — during the hearing, and this would be proven by a tattoo on his back. Triad members have dragon tattoos containing secret codes, according to Trillanes.
"Ang ebidensya po ng membership ng triad ay yung tattoo mismo, kasi meron siyang 'sacred digits'. Ngayon, kung willing itong si Vice Mayor Duterte e picturan natin at ipadala natin sa USDA para i-decode. Kung willing ka lang naman. Are you willing, Vice Mayor Duterte?" asked Trillanes.
"No way. Mr. Chair, no way," answered the vice mayor.
READ: Lawyer questions Trillanes' sexuality over tattoo inquiry