VP on Marcos immunity: No forgiveness without admission of guilt
September 6, 2017 | 2:10pm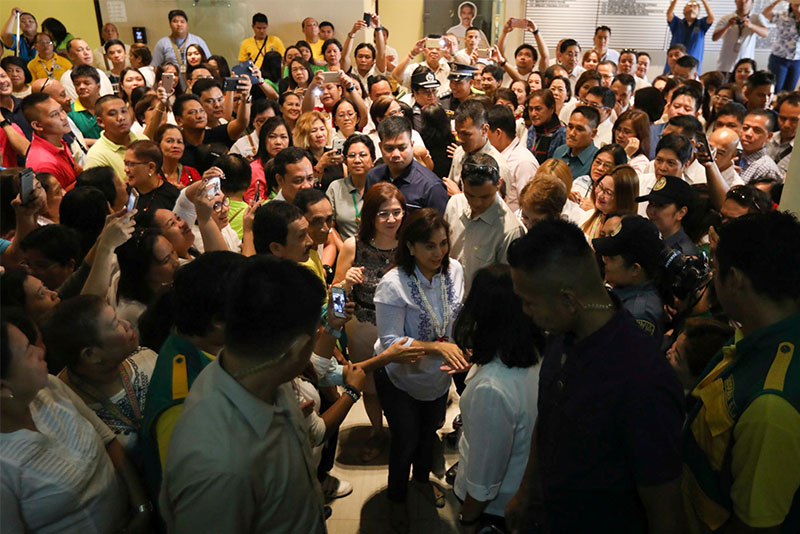 MANILA, Philippines — Vice President Leni Robredo on Wednesday said that any negotiations with the Marcos family should be done only after they acknowledge that they wronged the country.
She said that giving the family of the late dictator immunity from prosecution without any admission of their guilt would be a way for them to evade "legal repercussions."
"Mahirap magpatawad sa isang tao na hindi naman inaamin iyong kasalanan," Robredo told reporters in Pasay City, adding that an accounting of the crimes of the Marcoses is necessary considering the enormity of their alleged ill-gotten wealth, estimated to be around $10 billion.
Last week, President Rodrigo Duterte revealed that an emissary of the Marcos family indicated that they are willing to return some of the wealth and "a few gold bars" to help the government cover its budget deficit.
Duterte is friends with the Marcos family and has expressed his admiration for the late dictator. The president also allowed the interment of Marcos at the Libingan ng mga Bayani last year, the culmination of the late strongman's family's campaign to rehabilitate its patriarch.
The family of the late strongman reasoned that its father hid the wealth based on the expectation that Marcos would return to power following his ouster from office in February 1986.
In a speech on Tuesday, Duterte said that the family may ask for immunity in exchange for the return of some of its wealth.
He however clarified that the family did not ask for it when he received the offer and that he was not in a position to provide it.
Duterte said that the Marcos family should not be expected to return some of their loot if they would still be facing cases.
"If I were the Marcoses, kung isauli ko naman yan sabihin ko sa kanila, 'Maghingi kayo ng immunity.' Otherwise, keep the goddamned money. Isauli mo, na makulong ka," the president told the media after delivering a speech at the anniversary celebration of Metrobank.
Marcos' presidency from 1965 to 1986 was marred by human rights abuses, corruption and cronyism.
Robredo said: "Kung magbabalik-tanaw tayo, 31 years na mula na nagsampa ng mga kaso, pero halos kalahati pa lang iyong nababawi ng pamahalaan at naibabalik sa taumbayan. Mayroon pang kalahating hindi naibabalik."
"So kung may offer na ibabalik, tingin ko mafa-fast track niya. Kahit na nga super delayed na, tingin ko mafa-fast track niya. Pero huwag humingi ng immunity na walang pag-amin, kasi tingin ko vital iyon," she added.
The ousted dictator is accused of stashing $10 billion in clandestine bank accounts abroad. Of this amount, the Philippine government has so far recovered $3.6 billion.