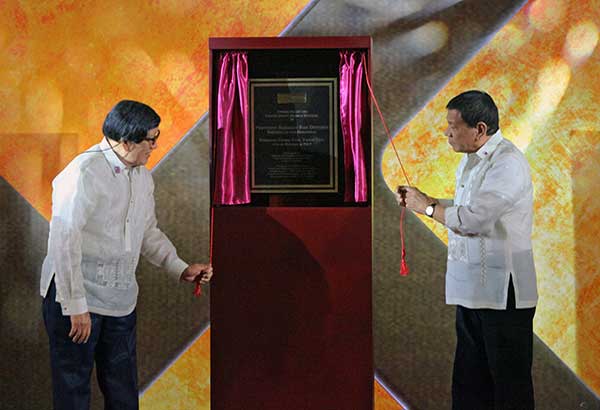 President Duterte and GT Capital Holdings chairman George S.K. Ty lead yesterday's unveiling of the marker for Grand Hyatt Manila in Fort Bonifacio, Taguig. The rising landmark, a joint venture project between property developer Federal Land Inc. and Orix Corp. of Japan, is set to bring to the Philippines world-class luxury living known to Grand Hyatts worldwide through a 66-story Grand Hyatt Hotel and the Grand Hyatt Manila Residences. JOEY VIDUYA
Metrobank's Outstanding Filipinos feted
MANILA, Philippines — President Duterte feted last night the outstanding Filipinos chosen by the Metrobank Foundation in a search for modern-day heroes and testaments to the culture of "malasakit" (care) and "tiwala" (trust).
Speaking during the awarding ceremonies at the Bonifacio Global City in Taguig last night, Duterte expressed how grateful he was for the initiative of private companies like the Metrobank Foundation to recognize the efforts of outstanding Filipinos.
"Let me also commend the Metrobank Foundation for recognizing our outstanding Filipinos. This reflects the values and ideals of Dr. George S.K. Ty who built the Metrobank with the greater purpose of going beyond business to serve ordinary Filipinos and empower them to reach their fullest potentials," Duterte said, reading from a prepared speech.
The President also praised teachers, even joking that he was a pioneer of the K-12 program long before it became a mandatory education standard in the country.On several occasions, Duterte mentioned having completed high school in seven years.
"It is truly a great pleasure for all of us to recognize the distinguish efforts and sacrifices of our teachers, soldiers and police officers who dedicated themselves to a lifetime of exceptional service," he said.
The awardees were: Jennifer Rojo, visionary Science teacher of Tagaytay; Edgar Elago, culture coach of Agusan del Norte; Esperanza Cabrera, master Microbiologist of Manila; Alonzo Gabriel, food security advocate of Diliman; Staff Sergeant Narding Pascual, Lumad hero of Caraga; Lt. Col. Elmer Suderio, soldier and trailblazer of Basilan; Lt. Col. Ricky Bunayog, warrior and peacekeeper of Central Mindanao; Police Officer 3 Shiela May Pansoy, anti-abuse herald of Davao del Sur; Chief Insp. Rosalino Ibay Jr., finest officer of the Manila Police District; and Senior Supt. Joel Doria, Ph.D., Cebu's Oplan Pokemon groundbreaker.
"These year's awardees are great exemplars of our peers, with great dedication and commitment they have become agents of change and influence in their respective communities," Duterte said. "Congratulations, you have brought new hope and inspiration for this country. May you remain steadfast in serving our people with excellence, integrity and competence."
He cited their having "gone beyond excellence."
"As a fellow of public servant… I am honored to work with them in fulfilling our inherent responsibilities and cherished mandates," the President added.
He also took time to congratulate the prime movers behind the Grand Hyatt Manila, "which would further boost the country's vibrant tourism industry and help accelerate the pace of our economic growth."
"Also congratulations to Metrobank, for more than 50 years of offering dependable financial services to the Filipino people. Your dynamic proactive and valuable endeavors significantly contribute to our collective efforts towards fostering economic development that redounds to the benefit of all," he added.