Ferdinand Marcos 100th birthday party set at Libingan
September 5, 2017 | 4:00pm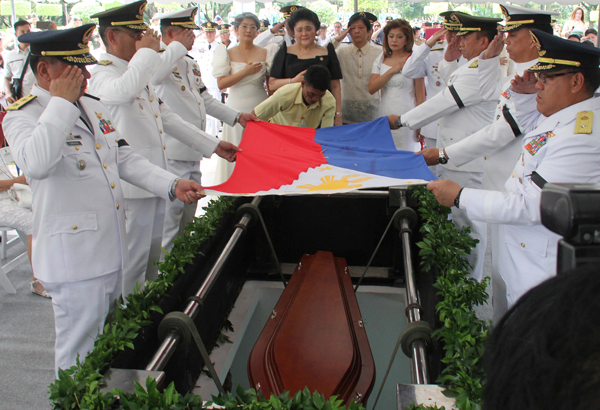 MANILA, Philippines — The Marcos family is celebrating the birth centennial of the late president Ferdinand Marcos at his burial site at the Libingan ng mga Bayani on Monday.
A source close to former first lady and Ilocos Norte Rep. Imelda Marcos told The STAR yesterday that she is the one organizing the celebration.
"It's a family affair, plus friends and guests," the source said.
Another source said among those invited are ranking government officials and foreign diplomats.
It's not clear if President Duterte, a Marcos ally who allowed the late dictator's burial at the cemetery for heroes last year despite protests, is among those invited.
Marcos, born on Sept. 11, 1917 in Ilocos Norte's Sarrat town, died in exile in Hawaii in 1989 and his remains were brought back to the country in 1991 when former president Corazon Aquino lifted a ban.
He and his family were forced to flee to Hawaii in February 1986 after a military-backed people power revolt ended his more than two-decade rule of the Philippines.
When they landed there aboard US military planes, US Customs inventoried what they brought with them. The inventory included 22 crates of cash amounting to $717 million, over 300 crates of assorted jewelry, deposit slips in foreign banks worth a total of $124 million and gold bullion worth $200,000.
Marcos and his wife, now Rep. Imelda Marcos, were accused of squandering about $10 billion from state coffers while they were in power.
President Duterte announced last week that the Marcos family has offered settlement for the return of the alleged illegally acquired wealth, including some gold bars.
"They want to settle with the government because this issue must end," he said.
He added that a representative of the Marcoses has expressed the family's willingness to return part of the Marcos wealth, including "a few gold bars" to the government.
Asked to comment on the President's statement, Marcos' eldest daughter Imee, who is the governor of Ilocos Norte, said there were no talks yet and that the government would have to negotiate with their family's lawyers.
Rep. Lito Atienza of party-list group Buhay has said Mrs. Marcos once confided to him that the Marcoses were keeping 7,000 tons of gold bars abroad.
"She wanted to bring the gold back here and give it to the government so we can wipe out our debt, but that a foreign government was against it," he said.
At present prices, Atienza said the Marcos family's supposed gold hoard is valued at $296 billion or P15 trillion, about 4.5 times this year's P3.35-trillion national budget and four times Duterte's proposed P3.8-trillion outlay for 2018.
"That gargantuan sum could certainly pay for all of our domestic and foreign debt. There will even be a huge surplus," Atienza added.
As of end-March this year, the national debt stood at P6.19 trillion. Of that amount, P3.97 trillion represented local debt, while foreign debt totaled P2.22 trillion.
In a bid to refresh the minds of the youth about Marcos' legacy, organizers have scheduled a week-long celebration that include a forum, literary and arts festival, a quiz show, "Amazing Macoy Race" and the debate, oratorical and art competitions, among others.
At the Marcos Centennial page on Facebook, Gov. Imee shared how many Filipinos relied on her father during his long presidency.
"Ang problema kasi noon, ang dami-daming trabaho ng papa ko na lahat umaasa sa kanya. Sa bandang huli, noong nagkasakit, nagkaloko-loko na kasi. Either talagang nakikinabang, o nag-abuso, o hindi alam ang ginagawa yung mga nasa baba. Kasi everybody, for years and years, siya ang inaasahan (The problem then was that my father was loaded with work that everyone relied on him. Towards the end, when he was sick, things got crazy. People below him either gained, abused or didn't know what they were doing because everyone relied on him for so long)," the governor pointed out. – With Christina Mendez