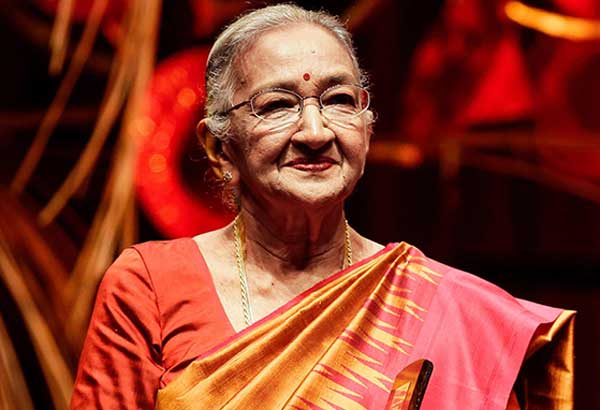 Ex-teacher helps rebuild scarred lives in Sri Lanka
(The Philippine Star) - September 3, 2017 - 4:00pm
2017 Ramon Magsaysay Awards
MANILA, Philippines - For someone who has experienced first-hand war, violence and disaster in her home country, not to mention caring for and supporting practically all types of victims and leading survivors through the healing process, it must be easy to get disillusioned, lose hope and just give up on life.
But 82-year-old Gethsie Shanmugam of Sri Lanka rose to the occasion — and was recognized as one of this year's Ramon Magsaysay awardees for tirelessly championing psychosocial support systems, especially for women and children victims of conflict in the island nation for four decades.
"My work with children and adults living with war, disaster and other hardships has shown me that even in the context of terrible violence, loss and suffering, there is always the possibility of growth, caring and hope," Shanmugam said in her acceptance speech during the Ramon Magsaysay awarding ceremonies in Pasay City last Thursday.
Her award, she said, "affirms the spirit of humanity that endures even under the most difficult of circumstances."
"Life cannot only continue despite pain and hardships, but can take on new meaning and purpose," she added.
The numbers from the three-decade brutal battles in Sri Lanka can be discouraging: an estimated 35,000 children were killed and 300,000 displaced.
Perhaps, having mastered patience, endurance and temerity as a teacher for 27 years helped her deal with society's evils and keep an optimistic disposition toward fellow citizens.
A member of the Sri Lanka's minority Tamil community, Shanmugam first ventured into teaching at Mowbray Girls' College in Kandy after attending a private girls' boarding school.
In 1967, she went to St. Joseph's College in the capital Colombo where, during her 16 years of teaching, she developed an interest in psychology and worked as a volunteer counselor at the Family Services Institute and Subodhi Institute of Integrated Education.
After retiring from St. Joseph's in 1983, she engaged in psychosocial work for adults and children displaced by war in Sri Lanka's northern and eastern provinces. Such area of professional work was still in its infancy in Sri Lanka then.
Then came a turning point in her career — and her life: working for Save the Children Norway (SCN) starting in 1987.
As she did counseling work, collaborated with colleagues and trained teachers and non-government organization workers, Shanmugam braved bombings, searches and threats of arrest in the conflict zones just to cross the Sinhalese-Tamil borders.
Being a Tamil-speaking expert within SCN helped Shanmugam: she was tapped to lead in designing programs and doing research, training, and counseling in projects meant to build capacities for psychosocial support in war-affected schools and to help war widows, orphans and traumatized children.
"I saw how, with encouragement and assistance, children on the small tidal island of Nasivantheevu found the courage to negotiate with the warring parties to allow safe passage for the bus that took them to school, enabling access to an education that would transform their lives," Shanmugam recalled.
In her 11 years as senior program officer of SCN, she also encountered soldiers who had lost both legs in combat, considered suicide thrice and could hardly bear to sit with a member of another ethnic group. She worked with stigmatized widows, children, adults and individuals or groups, as well.
"I witnessed how, through personal contact, this young man was able to set aside his anger to care for an older woman from a community he deeply mistrusted… I saw how women's determination and hard work enabled them to overcome challenges to secure a life for themselves and their children," she said.
Even if she left SCN in 2000, she continued to be active as consultant and volunteer in organizations working with women and children suffering not only from war trauma but also domestic violence, alcoholism and sex trafficking such as FORUT, Eastern Self-Reliant Community Awakening Organization, Foundation for International Training and Norwegian Refugee Council, to name some.
When the December 2004 Asian tsunami ravaged Sri Lanka and left 31,000 people dead in the country, Shanmugam trained 80 schoolteachers in a government pilot program to provide a supportive environment for traumatized children.
Armed with various approaches and methodologies she learned from training in different countries, she experimented with small and simple ways to build psychosocial resilience adapted to local conditions and the lack of trained professionals.
"My four decades of experience taught me that healing and transformation always start with the person," Shanmugam said.
"For people who are in deep pain to begin to heal, it is essential for them to gain self-awareness and acceptance, which in turn shapes their capacity for healthy relationships with others or even toward themselves."
Touted as the amma ("mother") of Sri Lanka's children, Shanmugam believes all change starts with a person.
"I believe that each of us is a tool for the healing of ourselves, of others and of the societies we live in," she said.
Creating small ripples of change in the world is possible, according to Shanmugam, when small groups of individuals can form around one person who relates to others with genuine love.
"I did not do so much, just a drop in the ocean. But those drops are important, and I hope there will be many more to help society grow," she ended.