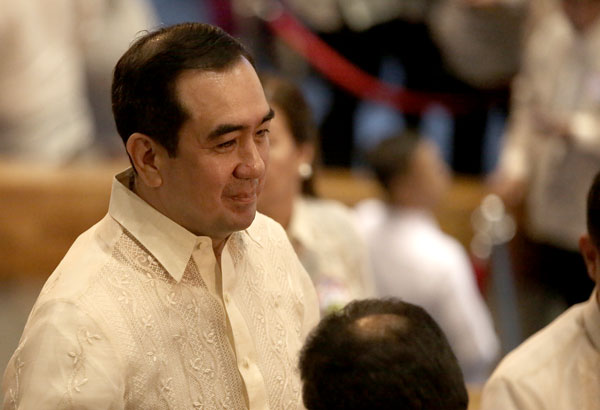 Poll chief Andres Bautista said that he was a victim of a demolition job. Philstar.com/AJ Bolando, File
Senate panel asks poll chief to waive secrecy of bank deposits
MANILA, Philippines — A Senate committee on Wednesday requested Commission on Elections Chairman Andres Bautista to sign a waiver on secrecy of bank deposits.
The Senate committee on Banks, Financial Institutions and Currencies, which is currently investigating the alleged ill-gotten wealth of Bautista and his possible violation of the anti-money laundering law, also asked the poll chief to attend the inquiry.
Sens. Vicente Sotto II and Grace Poe moved to summon Bautista and have him sign a waiver on the secrecy of his bank deposits, which include the controversial Luzon Development Bank account.
"There being a motion, hearing no objection, the chair directs the committee secretary to invite Chairman Bautista to shed light on this issue or matter or in the absence thereof a written waiver to the bank so that the hearings can proceed without any legal stumbling blocks, so ordered," committee head Francis "Chiz" Escudero said.
Escudero also considered the order for the waiver saying he recalled that Bautista had stated his willingness to cooperate and clear his name.
Although Escudero said the poll chief did not mention anything about signing a waiver yet, he is optimistic that Bautista would cooperate in the Senate's inquiry.
LIVE: Senate probe into Andres Bautista's wealth
Escudero said that even if Bautista refuses to attend he would be satisfied if the poll chief could submit the waiver.
'Bautista should clear name through attendance in hearing'
Poe said Bautista's presence in the next hearing, slated Tuesday, could help him defend his innocence.
"Pagkakataon niyang depensahan ang sarili… Sabi niya naman galling ito sa lehitimong hanap-buhay ng kanyang pamilya pagkakatoon niyang patotohanan iyon sa pagdinig," Poe said.
Luzon Development Bank's legal counsel Francis Lim also said that his client is willing to release the bank documents of Bautista once he issues the waiver.
"Just for the record Mr. Chair, if the depositors concerned give their written permission as required by law, the bank is more than willing to talk about the deposits," Lim said.
Lim said that if the poll chief's account is a joint account, the waiver of one of the depositors is enough. However, the bank's legal counsel said that because of the uncertainty of the law he still suggests that all depositors of the joint account should sign a waiver to avoid the bank from being held criminally liable.
The bank's legal counsel particularly requested for Bautista's siblings and relatives to sign a waiver.
Earlier, Andres and his sibling Martin claimed that some of the accounts being questioned by the public and the poll chief's estranged wife Patricia "Tisha" Cruz-Bautista are family-owned.
Martin said the poll chief served as their family's treasurer and handled the investments. He said Patricia knew about these investments and accounts.