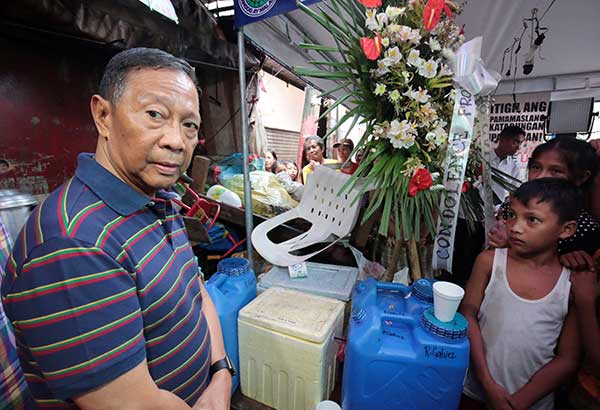 Former vice president Jejomar Binay visits the wake of Kian Loyd delos Santos in Caloocan yesterday. MICHAEL VARCAS
Kian sold 10 grams of shabu a day — police
MANILA, Philippines - Northern Police District (NPD) director Chief Supt. Roberto Fajardo insisted that Grade 11 student Kian Loyd delos Santos used to sell 10 grams of shabu or P18,000 per day before policemen shot him dead, a claim belied by the boy's family and neighbors.
In a press conference yesterday, Fajardo said the Caloocan City police has witnesses who will testify on Kian's alleged involvement in the drug trade.
"What they used to call him is 'addict' and 'pusher'. Now that he is dead, he suddenly became good," Fajardo told reporters.
"The 10 grams more or less cost P18,000, depending if it is high grade. Shabu sold in one pack is equal to 5 grams, which is P8,000 to P9,000. So they got two packs containing 10 grams with a value of around P18,000, which they recovered from Kian," he added.
Caloocan City prosecutor Darwin Cañete also said the idea that Kian was an innocent victim was "too farfetched."
"There is bias on the part of those who are reporting and those reading or watching the report on television. What if there was really a shootout? What if the boy was indeed a drug runner?" Cañete said.
"I am not saying they did not kill the boy. But let's weigh the evidence. You mean the police would go all the way to Sta. Quiteria just to kill an innocent teenager? Maybe, just maybe, if the police really killed the boy as they claim, he could be involved in any way," he told The STAR.
Relatives and neighbors of Kian, however, belied such claims. They maintained the boy was innocent and a victim of summary execution of "misguided policemen."
"We are saddened by this tragedy, but what makes it harder for us is that they ,are insisting that my son is a drug pusher and they are trying to taint our name by covering for their misdeeds," Lorenza delos Santos said in Filipino.
A neighbor who witnessed the killing of Kian also belied Fajardo's claim that Kian was a drug runner and slammed the police for presenting an arrested drug pusher to testify against Kian.
"What is this? Did they coach the drug suspect so that they can justify what happened?" the neighbor said.
Police operatives killed Kian during an anti-narcotics operation in Barangay 160, Caloocan last Aug. 16.
The three police officers behind Kian's death – Police Officer 3 Arnel Oares and Police Officers 1 Jeremiah Pereda and Jerwin Cruz – claimed they shot Kian because he ran and resisted arrest.
But officials of Barangay 160 disputed the police statement. Many witnesses also said that armed police officers in civilian clothes slapped and punched Kian even if he was pleading with them to stop because he had a test the next day.
On Sunday, the Caloocan police presented a suspected drug peddler, who claimed he received drugs from Kian several times in a span of three months.
"Some have identified him… There are people who can prove that he was a drug runner. These drug pushers are smart, they are using minors," Fajardo said yesterday.
Fajardo admitted that the intelligence report did not indicate that Kian was a minor.
Bato: I'm not God, I can't control everything
Philippine National Police (PNP) chief Director General Ronald "Bato" dela Rosa admitted he is not happy that policemen killed Kian in the operation against illegal drugs.
"I am also not happy with the outcome. Why the child? He can still change. He used (drugs), but just lecture him that it is wrong. Why is he allowing himself to be his father's drug courier?" Dela Rosa said in Filipino in an interview over dzMM.
Barangay officials have denied that Kian and his father were on a drug watchlist. This was also confirmed by Fajardo himself.
Dela Rosa lamented that he cannot control everything and the PNP is in a difficult situation so he could not assure the public that no one will be killed in the police operations against drugs.
"I am not God for me to control the whole situation. The situation of police operations on illegal drugs on the ground is very fluid," he said.
"We policemen, damned if we do, damned if we don't. That is our life. If we do not do anything, the people will say drugs and crimes proliferate but we are not doing some action, we are useless. Now that policemen are doing something, we are abusive. We cannot please everyone," he added.
Dela Rosa insisted that Kian was included in the police drug watchlist as he was his father's drug courier. He cited the reports from Fajardo.
The PNP chief explained that not all drug personalities are immediately included in the police drug watchlist since operatives are still in the process of validating the information.
He also said he is leaving it up to the Scene of the Crime Operatives to look into the evidence and to determine whether forensic analysis would support the claim of the policemen.
Accused cops under restrictive custody
Meanwhile, National Capital Regional Police Office chief Director Oscar Albayalde said the three police officers accused of murdering Kian have been placed under restrictive custody at the NCRPO's Regional Support Service Group.
They could not leave the police headquarters and have also been disarmed. They will be subjected to paraffin tests and their firearms subjected to ballistics tests by the crime laboratory, Albayalde added.
The crime laboratory needs 10 days to complete the analysis on the pieces of evidence recovered from the crime scene.
Albayalde also said the prosecutor noticed the marking of the plastic package of shabu on Kian's waist, supporting the claim of policemen that the shabu pack had been with Kian.
"It means the pack containing 10 grams of shabu had been attached to his body for some time," he added.
Albayalde said the investigation of the Criminal Investigation and Detection Group will determine whether Kian was summarily executed and if he was really a minor.
"Unfortunately, many believe that he was a minor. Remember, there are 17-year-olds who could look like 25-year-olds and there 25-year-olds who could look like 17-year-olds," he added. – With Non Alquitran, Alexis Romero, Rey Galupo