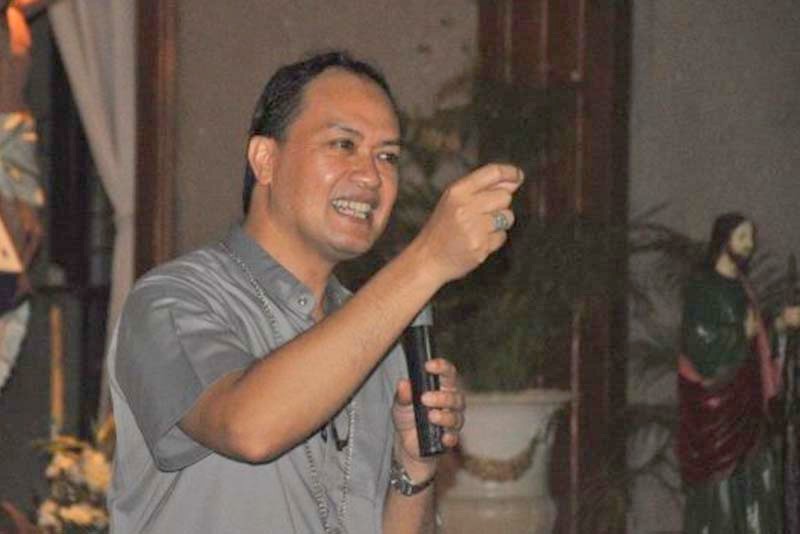 Pablo David, bishop of Caloocan, is seen delivering a lecture in this CBCP News photo.
Deadliest week in drug war outrages Catholic bishops
(philstar.com) - August 19, 2017 - 4:10am
MANILA, Philippines — Catholic bishops expressed alarm over the recent spate of killings that included a 17-year-old boy.
The death of unarmed 11th grader Kian Lloyd delos Santos in the hands of cops was a highlight of the deadliest week to date in the bloody anti-narcotics campaign that started in June last year with the ascent of Rodrigo Duterte to the presidency.
The campaign left at least 81 people dead in a week, 32 of whom were shot dead in simultaneous police raids in Bulacan province on Tuesday, the deadliest day so far in the controversial drug war, where thousands have died.
ALSO READ: Death of boy, 17, jolts senators to speak against killings
Bishop Jose Oliveros of Malolos, Bulacan did not hesitate to call the incidents in his diocese "extrajudicial killings," despite Duterte supporters' rejection of the term.
"We are all concerned about the number of drug related killings in the province because they are mostly, if not all, extra judicial killings," Oliveros said in a CBCP news report.
The prelate also questioned the motive of the police for the killings that all took in one day.
"We do not know the motivation of the police why they had to do the killings in one day, maybe to impress the president who wanted more," he said.
Bishop Pablo Virgilio David of Caloocan where Delos Santos was killed also lamented the tragedy, drawing comparisons with the abusive martial law regime of dictator Ferdinand Marcos in the 1970s and 1980s.
During Marcos' time, "communist" was used as "label and justification" for abductions and killings. "Now, it's 'drug suspects.' I don't know of any law in any civilized society that says a person deserves to die because he or she is a "drug suspect," David said.
Referring to the behavior and apparent abuses of cops, David suggested that anyone could be labeled a drug suspect on a whim.
"You might be surprised to find your name in the list one of these days. Anyone can be listed as a 'drug suspect," David said in the same CBCP report.
The Catholic Church in the Philippines has put up a quiet resistance to the prevailing narrative of the war on drugs, opening its doors to those on village-level drug watch lists, often the basis of police for new targets.
ALSO READ: The year of Duterte's dystopian vision
Priests have also been offering their pastorial services to families—such as in buring the dead—whose loved ones died as "drug suspects."
Police reports would often recount the killings in operations as the result of cops' self-defense. Reports by eyewitness, the media and human rights organizations over the past months, however, found no proof of suspects supposedly fighting back in many such incidents. — Camille Diola