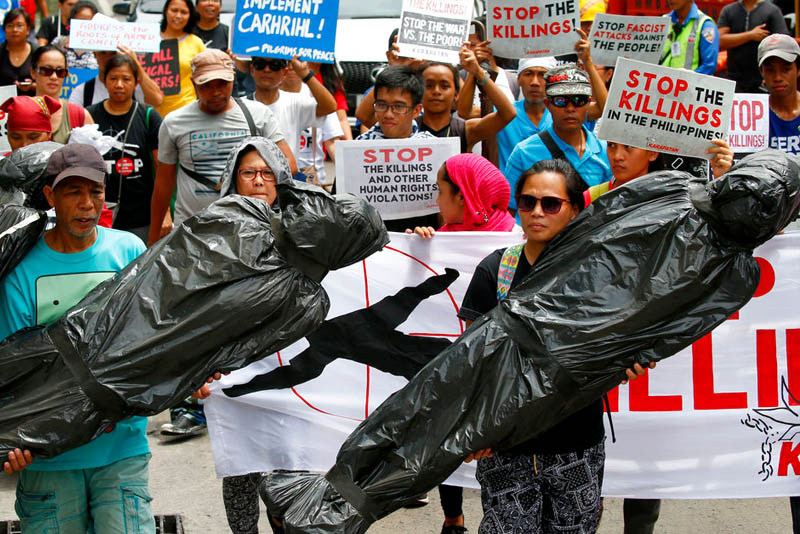 In this July 20, 2017 photo, protesters carry effigies symbolizing thousands of victims killed in the so-called war on drugs of President Rodrigo Duterte as they march for a rally outside the Philippine National Police in Quezon City, Philippines. AP/Bullit Marquez
Amnesty International: Duterte government going to new depths of barbarity
MANILA, Philippines — A slew of condemnations greeted the rounds of drug-related deaths that occurred on the streets of Manila and Bulacan in the past two days, with an international human rights watchdog saying that the government's bloody war on drugs was "plumbing new depths of barbarity."
Vice President Leni Robredo also criticized the deaths on Thursday, expressing outrage over the deaths that President Rodrigo Duterte praised a day before.
James Gomez, Amnesty International's director for Southeast Asia and the Pacific, said that the deaths proved that the "lawless 'war on drugs'" had not stopped as police were "routinely gunning down suspects," in violation of the right to life and due process.
"No one is bearing the brunt of this brutality more than the poorest communities in areas such as Bulacan province, a hotspot for extrajudicial executions since the president took power, and the scene of 21 of yesterday's 32 killings," Gomez said.
AI also warned that the bloody campaign seemed to have no end in sight as the president recently admitted that he would not be able to solve the Philippines' drug-related problems during his six-year term, which ends in 2022.
The president, during last year's campaign, promised that he would end the problem in three to six months, but he had an about face on this and extended the deadline at least twice.
AI reiterated its call for a United Nations-led investigation into the deaths.
"This shows clearly that there should be no further delay in establishing an internationally led investigation into the 'war on drugs' and the carnage currently taking place in the Philippines on a daily basis," Gomez said.
The killings related to police operations in Manila and Bulacan were uncharacteristic of Filipinos, Robredo said.
She expressed outrage over the killings, described as one of the bloodiest since Duterte launched his brutal campaign against illegal drugs in July last year.
"Ito, isang bagay na kailangan tayong mag-express ng outrage. Hindi naman tayo ganiyan, eh. Hindi naman tayo ito," Robredo said in a media conference in her hometown Naga City.
The police on Tuesday reported that simultaneous anti-narcotics police operations in Bulacan, a province north of Manila, resulted in the deaths of 32 alleged drug suspects.
Aside from the deaths, the operations also resulted in the arrest of dozens, according to Romeo Caramat Jr., Bulacan police chief. They also seized at least half a million pesos worth of methamphetamine, locally known as shabu and 21 firearms.
On Wednesday night, another 20 people were killed in separate anti-drugs campaign in several areas in Manila. The police said that the deaths occurred after the suspects offered armed confrontations with the cops.
According to News5, five people were killed in Sta. Cruz, three in Malate, two in Sampaloc, three at Santa Ana, four in Ospital ng Maynila and one in Ermita. In these deaths, cops claimed to have found packets of shabu and weapons in the crime scenes.
The vice president said that the Philippines should not allow the culture of impunity to return as she emphasized that government authorities should not allow some individuals to take the law in their own hands.
Robredo said: "Hindi na hinahayaang gumiling pa iyong mga proseso na nasa Konstitusyon natin para siguruhin na iyong hustisya nabibigay para sa lahat."
Ernesto Abella, a presidential spokesperson, assured the public that there would be a fair and impartial investigation into the Bulacan and Manila killings.
He defended the operations as "not the result of a single action" but rather "wide ranging simultaneous police operations against illegal drug offenders conducted in the whole province of Bulacan."