Cayetano hit for dismissing Chinese presence near Pag-asa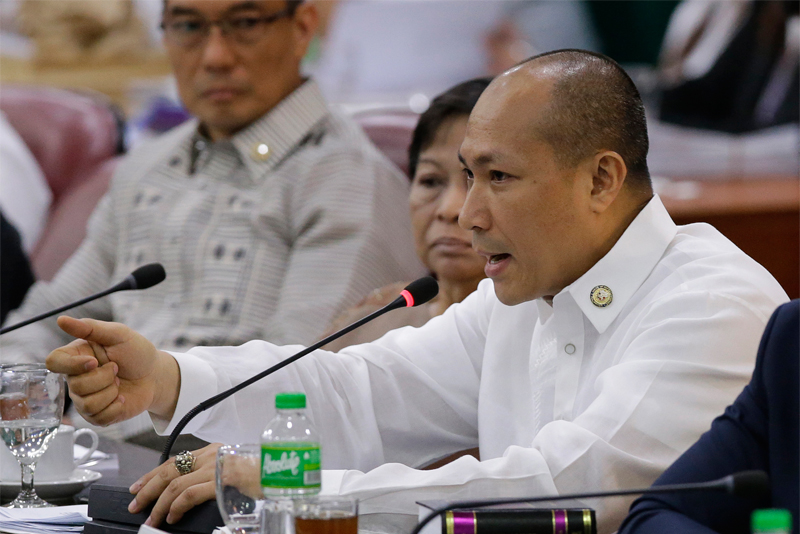 MANILA, Philippines — Magdalo party-list Rep. Gary Alejano on Thursday expressed disappointment over Foreign Secretary Alan Peter Cayetano's statement on the reported presence of Chinese ships near Pag-asa Island in the West Philippine Sea, the part of the South China Sea the Philippines claims.
The Philippines' top diplomat earlier suggested that the presence of Chinese vessels near the second biggest island in the Spratly Islands should not be a cause of alarm.
"It is disheartening to hear our own DFA secretary brushing aside the unusual and suspicious presence of several huge military and civilian Chinese ships along with Chinese choppers surveying in the vicinity of our largest island for several days and stating that 'it does not mean anything,'" Alejano said in a statement.
Alejano stressed that the presence of Chinese ships near Pag-asa Island is not comparable to US ships conducting freedom of navigation operations in the South China Sea.
READ: Cayetano defends Chinese presence near Pag-asa
The US is a long-time ally of the Philippines and is not involved in island grabbing in the disputed waters, Alejano said.
The party-list lawmaker called on the Duterte administration to be transparent in its dealings with China and on issues over South China Sea.
"We have not heard, so far, of any diplomatic protest lodged by DFA against China's intrusions and aggressive actions, especially on our fishermen. The Filipino people are kept in the dark as to the real score of the Duterte's foreign policy," he said.
The DFA, on the other hand, stressed that it did not say that they do not or will not bring up with the Chinese side whenever there are confirmed and official reports of such incidents.
"Our diplomatic representations are not necessarily for publication because of the sensitivity of the issue. Same goes with any other diplomatic representation on any foreign policy issue with any country in the world," DFA spokesperson Robespierre Bolivar said.
Bolivar noted that the DFA is still seeking the assessment from the Department of National Defense and the Philippine Coast Guard of the reported presence of Chinese vessels in the country's maritime domain.