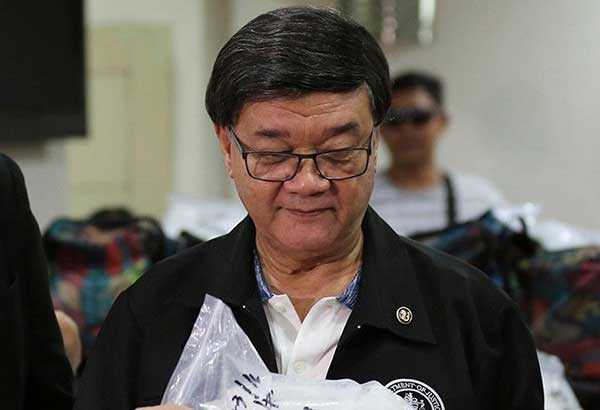 Justice Secretary Vitaliano Aguirre II announced in a press conference yesterday that the BIR has formed a five-member team to investigate possible violations of the National Internal Revenue Code by Bautista following charges of hidden wealth worth about P1 billion. AP/File
BIR starts tax probe of Bautista, wife, others
Edu Punay
(The Philippine Star) - August 16, 2017 - 4:00pm
MANILA, Philippines - The Bureau of Internal Revenue (BIR) has started its investigation on the alleged tax evasion committed by Commission on Elections (Comelec) Chairman Andres Bautista.
Justice Secretary Vitaliano Aguirre II announced in a press conference yesterday that the BIR has formed a five-member team to investigate possible violations of the National Internal Revenue Code by Bautista following charges of hidden wealth worth about P1 billion.
Aguirre revealed that apart from the Comelec chief, also covered by the BIR probe are Bautista's estranged wife Patricia Paz, dean Nilo Divina and his law firm DivinaLaw, Luzon Development Bank (LDB) and related parties.
Patricia claimed in her recent affidavit that her estranged husband had money in banks, condominiums and interest and shares in companies established overseas that the poll chief allegedly did not declare in his 2016 statement of assets, liabilities and net worth (SALN) with a total estimated value of almost P1 billion.
Bautista declared a P176.3-million total net worth in his 2016 SALN.
She also alleged that the poll chief had pay slips and checks received from the Divina law firm "as commission for assisting the law firm clients with the Comelec."
Patricia likewise claimed that Bautista had 35 passbook accounts at LDB with a total balance of P329,220,962.
In BIR Special Order 706-2017, which was released to the media yesterday by the DOJ, Commissioner Caesar Dulay designated Regional Director Glen Geraldino of Revenue Region 8 (Makati) as head of the probe team with Regional Director Manuel Mapoy and Revenue District Officers Petronilo Fernando, Bethsheba Bautista and Isabel Paulino as members.
In a letter, Dulay also sought Aguirre's assistance in the BIR probe.
"To help in the effective discharge of the team's investigative authority, kindly furnish it, through Director Geraldino, with any and all affidavits, reports and documents which your office may deem pertinent to the tax investigation," the BIR chief asked.
Comelec Comissioner Rowena Guanzon has advised Bautista to take a leave of absence amid accusation by his wife that he had ill-gotten wealth.
"I advised chair Bautista to take a leave immediately while he is deciding on his options to, in his own words, resign or stay and fight," posted Guanzon in her Twitter account @commrguanzon.
On Monday, Bautista had reiterated he has no problem resigning from his post but Comelec employees had already become part of family and it would be difficult to part with them.
He revealed he sought guidance from Manila Archbishop Luis Antonio Cardinal Tagle on how he should deal with the biggest challenge in his life.
Bautista had denied the charges, claiming that the allegations are politically motivated.
Aguirre ordered the NBI last week to probe the allegations against the Comelec chair and build criminal cases that could be pursued if Bautista is removed from his post via impeachment or once he resigns or completes his term.
He has directed the NBI to request bank records of accounts under Bautista's name with the Anti-Money Laundering Council.
The bureau is expected to submit an initial report to Aguirre this week.
Over the weekend, the justice secretary said that the investigation on Bautista has expanded and would cover possible charges of graft.
Aguirre said that he received several documents indicating possible anomalies in the Presidential Commission on Good Government (PCGG) when Bautista was chairman during the previous administration.
Impeachment
The estranged wife of Bautista could file an impeachment complaint against her husband, especially since "she may have personal knowledge" about the alleged P1-billion ill-gotten wealth, Speaker Pantaleon Alvarez said yesterday.
Alvarez said Patricia Cruz might have the advantage, owing to the fact that as a spouse, she could have been privy to the alleged accumulation of such questionable assets, if indeed there were.
At the same time, Alvarez insinuated there could have been violations of the Anti-Money Laundering Law, considering that the Comelec chief deposited such huge amounts of money in a virtually unknown bank – the Luzon Development Bank.
Kabayan party-list Rep. Harry Roque earlier filed House Resolution 1171 calling on the House committees on suffrage and good government to conduct an investigation, in aid of legislation, based on Patricia's exposé.
"It raises serious questions, if not doubts, on the integrity of Philippine democracy which Comelec is charged to protect and safeguard under the 1987 Constitution," he said, noting that Bautista may have received bribes from Smartmatic.
Among the pieces of evidence Patricia exposed were Bautista's 35 passbooks from Luzon Development Bank totaling P329.2 million, an RCBC dollar account with $12,778 (P640,000), an RCBC peso account with P257,931 in cash.
An HSBC account with HK$948,358 (P6.1 million) in deposits, and one condo unit each in Bonifacio Global City's High Street in Taguig City, and another one located abroad – in San Francisco, California. – With Sheila Crisostomo, Delon Porcalla