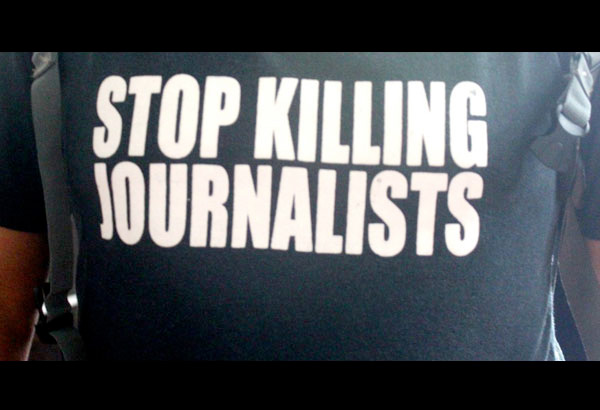 RSF considers the Philippines as the world's second most dangerous country for media personnel and ranked it 127th out of 180 countries in the 2017 World Press Freedom Index. File
RSF worried about Phl journalists' safety
WASHINGTON – Concerned over the recent spate of media killings in the country, several international journalists' organizations have called on the government to do everything necessary to identify and punish those responsible for the crimes.
The Reporters Sans Frontieres (RSF) or Reporters Without Borders said the situation is "very worrying."
RSF considers the Philippines as the world's second most dangerous country for media personnel and ranked it 127th out of 180 countries in the 2017 World Press Freedom Index.
"The sharp increase in media freedom violations in this Southeast Asian island nation is very worrying," it said, referring to the killing of Leonardo Diaz, Rudy Alicaway and Michael Marasigan.
Diaz, a former police officer turned stringer for Balita News, was gunned down on Aug. 7 by motorcycle-riding men in Sultan Kudarat while Alicaway was a radio host for dxPB in Zamboanga del Sur.
Marasigan, former managing editor of BusinessWorld, was killed along with his brother at a suburb of Manila last Aug. 3. He was a media consultant for the Department of Finance.
The Committee for the Protection of Journalists (CPJ) said that, "Until President Rodrigo Duterte shows he is serious about protecting journalists, these types of brazen killings will continue in an unbroken cycle of impunity."
The International Federation of Journalists (IFJ) also said that the "culture of impunity needs to be broken so that press freedom can flourish in the Philippines," adding that if the three killings are proven to be work related then it would bring the total number of journalists killed in the Philippines since 1986 to 177.
CPJ ranked the Philippines as fourth on its Impunity Index, a measure of countries worldwide where journalist are killed and the murderers go free.
RSF said "these murders are cruel reminders that the Philippines has for years been the world's second most dangerous country for journalists."
"The martial law declared on Mindanao island and the war on drugs that President Duterte has launched throughout the country must not be pursued at the expense of journalists' safety," it added.
"We welcome the decision to put an elite police force in charge of investigating the murder of Michael Marasigan and his brother and we urge the authorities to take similar measures in the cases of Leo Diaz and Rudy Alicaway and to do everything possible to ensure that these murders do not go unpunished," RSF said in its post.