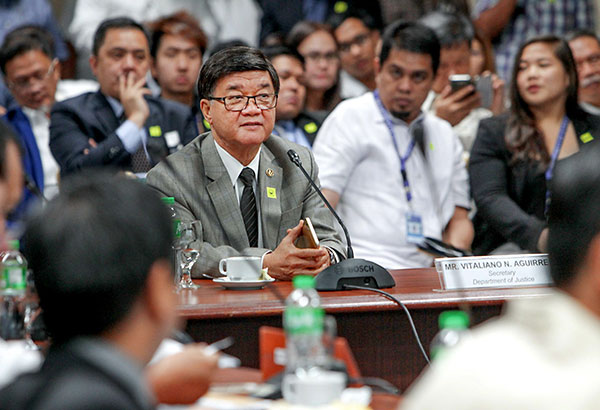 Justice Secretary Vitaliano Aguirre II revealed this over the weekend after obtaining several documents, which he said indicated possible anomalies in the Presidential Commission on Good Government when Bautista was its chairman during the previous administration. File
DOJ expands probe on Comelec chief
Edu Punay
(The Philippine Star) - August 13, 2017 - 4:00pm
MANILA, Philippines - The investigation on the alleged P1-billion ill-gotten wealth of Commission on Elections Chairman Andres Bautista has expanded and now includes possible graft charges.
Justice Secretary Vitaliano Aguirre II revealed this over the weekend after obtaining several documents, which he said indicated possible anomalies in the Presidential Commission on Good Government (PCGG) when Bautista was its chairman during the previous administration.
Aguirre did not specify the contents of the documents he received from incumbent PCGG officials – acting chairman Reynaldo Munsayac and commissioners Rey Bulay and John Agbayani – saying the information is raw and being verified.
"We are still studying it, it's not yet clear. I'm expecting a report this week," Aguirre said.
He said the information involved possible "ghost employees," foreign trips not in accordance with administrative procedure and commissions received for endorsing a law firm in cases.
"This involves possible violations of the law when Chairman Andy Bautista was PCGG chair from 2010 to 2015. The initial assessment of the three commissioners is that there could be anomalies. Hopefully this would be part of the report to be submitted to us," Aguirre said.
He also confirmed that he has tapped the PCGG - an attached agency of the Department of Justice – which the Duterte administration is planning to abolish, to look into the possible anomalies committed under Bautista's watch.
"The PCGG also has the power to investigate ill-gotten wealth," he said as he justified the parallel probe of the commission.
Apart from PCGG, Aguirre said the Bureau of Internal Revenue (BIR) has also joined the probe.
"We need to see if there are tax liabilities based on the affidavit and documents we have gathered," he said after a meeting with BIR Commissioner Cesar Dulay.
"The BIR wants to partner with us in this investigation," he said, adding Dulay will issue a letter of authority to Bautista and others mentioned in the affidavit of the Comelec chair's wife Patricia Paz.
Last week, the DOJ chief ordered the National Bureau of Investigation (NBI) to conduct a fact-finding probe on Bautista's alleged hidden wealth as claimed by his estranged wife and build up possible cases if warranted.
He directed the NBI to request bank records of accounts under Bautista's name with the Anti-Money Laundering Council.
Aguirre said probers would look into possible cases of money laundering and violations of Republic Act 3019 or the Anti-Graft and Corrupt Practices Act.
He said that while Bautista is an impeachable official, he is not immune from criminal investigation.
The pieces of evidence, Aguirre said, to be gathered by the NBI and PCGG could also be used in the impeachment proceedings against Bautista.
The allegation against Bautista came after his estranged wife met with President Duterte and executed an affidavit, which was then forwarded to the NBI.
The Comelec chief had denied the allegations, saying it could be part of an extortion attempt by his wife, whom he said had asked for a P620-million settlement.
Patricia claimed her husband has money in banks, condominiums and interest and shares in overseas companies, which the poll chief allegedly did not declare in his 2016 statement of assets, liabilities and net worth.
Bautista declared a P176.3-million total net worth in 2016.