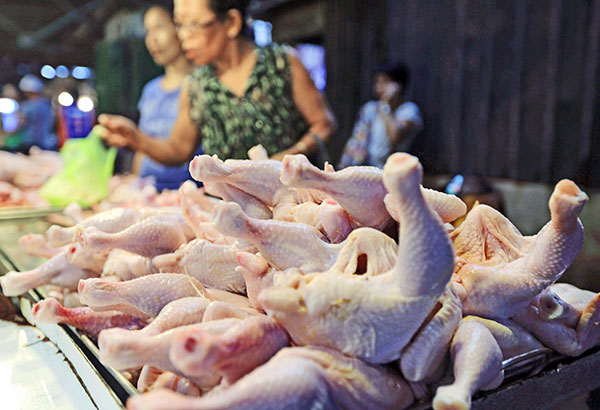 The prices of chicken meat in Metro Manila markets have declined amid the outbreak of bird flu in Pampanga even if the Department of Agriculture (DA) has clarified that it is safe to eat poultry products. File
Chicken prices drop amid bird flu fears
MANILA, Philippines - The prices of chicken meat in Metro Manila markets have declined amid the outbreak of bird flu in Pampanga even if the Department of Agriculture (DA) has clarified that it is safe to eat poultry products.
The Samahang Industriya ng Agrikultura (Sinag) said market monitoring in major wet markets in the metro showed that retail prices of chicken went down to P135 per kilogram from the average P160 per kg.
Wholesale prices also decreased to P110 per kg from the P125 per kg price before the announcement of the bird flu outbreak last Friday.
The avian flu virus is believed to have started infecting fowl in Pampanga last May but poultry operators were hesitant to report it to authorities. The virus has affected six poultry farms, according to a report submitted to the Bureau of Animal Industry (BAI).
Test specimens confirmed the presence of highly pathogenic avian influenza (HPAI) subtype H5 in the town of San Agustin in San Luis, Pampanga, killing 37,000 poultry, quail and ducks in six farms. The H5 bird flu virus that hit the Philippines causes 80 to 100 percent mortality in the poultry industry.
The DA confirmed that a majority of the affected birds are layered chickens, which produce table eggs. But products of farms are being delivered within Pampanga only, which lessens the threat of bird flu spread in other areas particularly in Metro Manila.
"The affected are layer farms therefore the egg production will be affected and not the chicken meat. But consumers are now afraid to buy chickens, hence the lower price," Sinag chairman Rosendo So said in a phone interview.
"We need to allay the fears of consumers that it is safe to buy chicken meat because if not, other poultry farms will be affected as well," he added.
The United Broilers Raisers Association (UBRA), a major poultry industry group, is urging its members all over the country to cooperate fully with the DA and its attached agency BAI to effectively contain bird flu.
"With the strong cooperation of all poultry industry stakeholders, we are optimistic that the bird flu outbreak in Pampanga will be resolved swiftly, enable affected poultry farmers and their families to recoup their losses, and the industry to grow stronger," UBRA president Elias Jose Inciong said.
While chicken meat and egg supply may become volatile in the next few days, UBRA gave assurance that it will continue to supply markets with quality and disease-free poultry products.
Large chicken producers particularly San Miguel Foods Inc. (SMFI), a subsidiary of diversified conglomerate San Miguel Corp., also assured all consumers of its Magnolia Chicken brand that their poultry farms remain free of avian flu.
"Upon immediate testing, our farms and our entire broiler flocks yielded negative results for bird flu. There are also no manifestations of any symptoms of the disease or any abnormal increase in mortality that are being observed," SMFI said.
The virus, which resurfaced in Asia in 2003, crippled poultry industries in neighboring countries, such as Vietnam.
"Other countries in the region with numerous cases of avian influenza have found the will to survive and thrive, hence I fully expect our country and the local poultry industry to likewise win this fight," Inciong said.
Palace: Gov't efforts underway
Malacañang also assured the public that efforts are underway to prevent traders from taking advantage of the situation.
Presidential spokesman Ernesto Abella said yesterday the government is closely watching the quality and price of poultry products in the market.
"While we assure the public that there would be no price increase in chicken meat as there is only one area affected by the avian flu, we must see to it that uncontaminated meat is sold in the markets," Abella said in a statement.
"Concerned government agencies are now looking at businesses that might take advantage of the situation and are monitoring the price of raw and processed chicken meat in the markets," he added.
Sen. Francis Pangilinan, who served as food security czar during the previous administration, has urged the government to monitor the prices of chicken in the market, saying profiteers might hike prices of raw and processed chicken meat. – With Alexis Romero