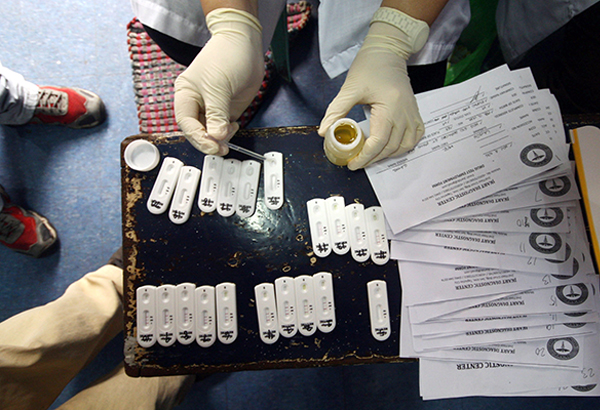 The Department of Education released this week the guidelines directing all public and private schools to conduct random drug testing on high school students this year. File
HS students not spared from random drug tests
Janvic Mateo
(The Philippine Star) - August 12, 2017 - 4:00pm
MANILA, Philippines - High school students will not be spared from the government's campaign against illegal drugs.
The Department of Education (DepEd) released this week the guidelines directing all public and private schools to conduct random drug testing on high school students this year.
The agency, however, stressed that the purpose of the drug testing is to determine the prevalence of drug users and to provide intervention measures for drug-dependent students.
It also noted that a positive test result would not be a ground for expulsion or disciplinary action, would not reflect on the students' academic record or be used to incriminate the student for further legal action.
"DepEd is committed to strengthen the department's programs on anti-illegal drugs for students. Relevant bureaus and services have been directed to further enhance the anti-illegal drugs component of the curriculum," Education Secretary Leonor Briones said in a department order dated Aug. 8.
"On co-curricular intervention, DepEd is intensifying its youth formation initiatives and advocacies, through the capacity building of youth formers and the provision of programs and activities for leadership development among learners. On authorized drug testing, DepEd will conduct drug testing among secondary students," she added.
In the order, Briones stressed that the random drug testing on students will be implemented primarily for prevention and rehabilitation and not to harass the students.
She added that the program shall guarantee and respect the personal privacy and dignity of the students, noting that the results will be treated with utmost confidentiality.
DepEd said the random drug testing will determine the prevalence of drug use among students, assess the effectivity of school-based programs, deter the use of illegal drugs and facilitate the rehabilitation of drug users and dependents.
The number and location of the testing will be based on stratified cluster sampling that wield a 95 percent confidence level for the whole student population in junior and senior high schools.
The agency also directed all private schools to undergo a similar procedure no later than school year 2018- 2019.
"Schools that refuse to implement the random drug testing program shall be reported to the Philippine Drug Enforcement Agency and the Dangerous Drugs Board for appropriate action," DepEd said.
Students who will test positive will be referred to a local social worker for counseling and other interventions. DepEd said parents may also enroll the students in a private rehabilitation center.
"If the student shows no signs of improvement or recovery, or fails the drug test the second time, the Department of Health-accredited facility or physician may make a recommendation to the student, parent or drug testing coordinator to have a student referred to (a facility)," the agency said.
DepEd also warned that they will implement compulsory confinement of the students as provided by the law if parents refuse to act on the situation of their child.