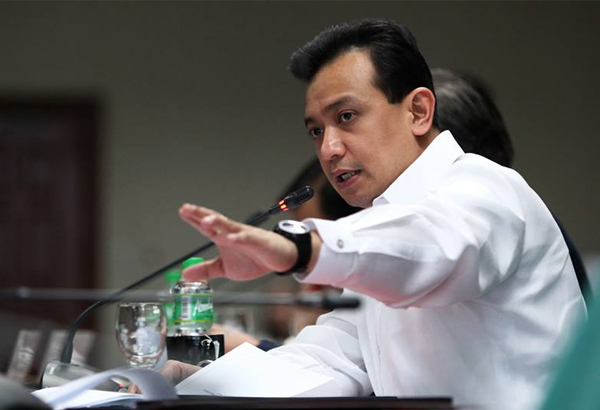 The unravelling controversy over the possible involvement of Bureau of Customs officials in the smuggling of P6.4 billion worth of shabu from China has demonstrated President Duterte's lies and hypocrisy, Sen. Antonio Trillanes IV said yesterday. File
Trillanes slams Duterte's 'hypocrisy' on BOC controversy
(The Philippine Star) - August 12, 2017 - 4:00pm
MANILA, Philippines - The unravelling controversy over the possible involvement of Bureau of Customs (BOC) officials in the smuggling of P6.4 billion worth of shabu from China has demonstrated President Duterte's lies and hypocrisy, Sen. Antonio Trillanes IV said yesterday.
In an interview over radio dwIZ, Trillanes said the entry of the shabu shipment could not have been just an isolated case.
"This goes very deep. There is a syndicate involved. This is not a case where someone (at Customs) messed up. This was prearranged by a drug lord, which was why it got into the country," Trillanes said.
He said he found it puzzling that Duterte had not spoken strongly against suspected perpetrators of smuggling at the BOC, despite his much touted disdain for corruption.
"Duterte said that the moment he as much as smells a hint of corruption, he would immediately fire the person involved. Here we have a case where the evidence is in plain sight and he is even covering it up," Trillanes said.
"You cannot rely on his word. He is a liar," he added.
The name of Duterte's son, Davao City Vice Mayor Paolo Duterte, cropped up at recent House and Senate hearings on the issue. Broker Mark Taguba told lawmakers about "rumors" of Paolo's involvement in drug smuggling.
Paolo has declined to comment on "hearsay" about his alleged drug links.
Trillanes also called on the Office of the Ombudsman to release the bank records of President Duterte and his family that it has reportedly received from the Anti-Money Laundering Council (AMLC).
He said credible sources have informed him that as early as April last year, the ombudsman had already received official documents from the AMLC regarding the accounts of the Dutertes.
The former Navy officer had filed a plunder complaint against Duterte, citing the latter's wealth not declared in his statements of assets, liabilities and net worth (SALN).
The senator's request for Duterte's bank accounts from the AMLC was turned down. He said AMLC documents now with the ombudsman reportedly revealed "flagged" transactions amounting to over P2 billion in deposits and credits.
"I now call on the ombudsman to release these documents so the public would know how corrupt Duterte is," Trillanes said.
Ombudsman Conchita Carpio-Morales has inhibited herself from the case filed by Trillanes as she is an aunt-in-law of the President's daughter, Davao City Mayor Sara Duterte.
However, she has stated that the investigation of the complaint would still be done even if the respondent enjoys immunity from suit while still in office.
Sen. Richard Gordon, chairman of the Senate Blue Ribbon Committee, said that there was clearly more illegal drugs entering the country than what was uncovered in Valenzuela Ciy.
With so many shabu-related cases still being reported regularly, Gordon said that this only means that the illegal drug is still being smuggled into the country.
Gordon, who has called for the resignation of Customs Commissioner Nicanor Faeldon, said he would be very disappointed if the commissioner is given a free pass after this incident.
As far as the President is concerned, Gordon said that he would still give him the benefit of the doubt.
He recalled how the President told him and other legislators to provide him with the evidence after their investigations into the controversy and he would act accordingly.
At large
The two Taiwanese owners of the P6.4-billion worth of shabu seized by Customs authorities in Valenzuela City on May 26 are still at large and only a warehouseman is facing charges for accepting the contraband.
Two Filipino-Chinese who facilitated the shipment, Chen Ju Long alias Richard Chen or Richard Tan and Manny Li, are under detention. The Senate has detained them on suspicion that they were withholding information.
Another Filipino-Chinese, Kenneth Dong, who claimed he just translated a shipping document from Chinese to English, has not been detained.
Also scot-free are three Filipinos who processed the shabu shipment, including Taguba, who claimed Dong was his client for this particular shipment.
The warehouseman, Fidel Anoche Dee of Marikina City, has lamented before congressmen that he could face life imprisonment, while the two Taiwanese are in hiding or have already left the country.
He identified one of the two as Jo Ming Jo and their Filipino aide as Jun Huang.
Agents of the BOC and Philippine Drug Enforcement Agency (PDEA) led by Customs intelligence chief Neil Estrella and PDEA director for
Metro Manila Wilkins Villanueva arrested Dee on May 26 after he accepted delivery of one metal cylinder containing 100 kilos of shabu.
The PDEA charged the warehouseman with possession of illegal drugs. He has been languishing at the Valenzuela City jail for more than three months.
Dee said it was Huang who told him a shipment would arrive at the warehouse his sister Emily owns and which the two Taiwanese had rented for P30,000 a month.
He said the Taiwanese paid him P8,000 a month.
The cylinder he accepted was among five cylinders seized by Estrella earlier that day at a nearby warehouse owned by Chen, whose Hongfei Logistics China and Hongfei Philippines served as "consolidator" of the 40-foot container that contained the five metal cylinders, which yielded 604 kilos of shabu.