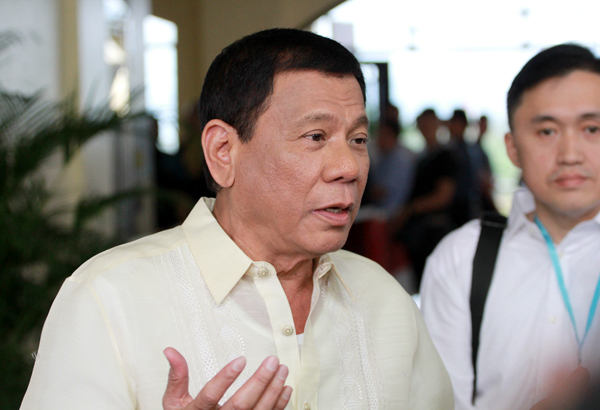 Just an affidavit clearly showing his son's involvement in the entry of P6.4 billion worth of shabu from China would be enough to convince President Rodrigo Duterte to step down. Philstar.com/AJ Bolando
Rody: Just give me an affidavit on Paolo, I will resign
(The Philippine Star) - August 12, 2017 - 4:00pm
DAVAO CITY, Philippines – Just an affidavit clearly showing his son's involvement in the entry of P6.4 billion worth of shabu from China would be enough to convince President Duterte to step down.
"Sabi ko, just give me an affidavit and I will step down as President of this Republic. And that is my commitment to you now. That is my word," the President said at the 100th anniversary celebration of the Southern Philippines Medical Center held at the SMX Convention Center in SM Lanang Premier the other night.
Paolo's name cropped up at recent hearings of the Senate and the House of Representatives on the mysterious entry of the contraband allegedly from Xiamen, China.
At the hearings, broker Mark Ruben Taguba testified having heard "rumors" in the Bureau of Customs (BOC) of Paolo's involvement in smuggling, along with the so-called "Davao group."
"And if my son was really into it or in is in there, all you have to do is to produce the paper – because there are two ways of evidence – oral and documentary," Duterte said.
He said his and his son's name would crop up in corruption issues "every now and then" but that nothing had been proven so far.
Duterte said he has admonished his children to shun and fight corruption. Paolo is his son by his former wife Elizabeth Zimmerman. His other children by Zimmerman are Sebastian and Davao City Mayor Sarah Duterte-Carpio. The President has a daughter – Veronica "Kitty" – by current partner Honeylet Avancena.
Paolo, for his part, downplayed Taguba's claim, saying the latter himself had called the vice mayor's alleged involvement in smuggling hearsay.
"Taguba admitted that his testimony against me was based entirely on rumors. Why would we entertain or believe hearsay? One does not dignify lies with a response," Paolo said in an earlier statement.
The President stressed he would never let corruption tarnish his family's name. He stressed that as prosecutor he didn't earn much and if he had managed his life then with so little, "Why would I not be contented now with a bigger salary?"
He admitted that with a bigger salary now, coping with the demands of keeping two families has become easier.
Paolo, meanwhile, lashed out at detained Sen. Leila de Lima for telling his father to pay attention to the vice mayor's alleged drug links.
"Look who's talking, locked up in jail for protecting drug lords and proliferating illegal drugs. Do I need to comment?"
De Lima taunted Duterte about Paolo's possible drug links after the President said in remarks before policemen that he had taken a peek into her cell at Camp Crame. – Christina Mendez