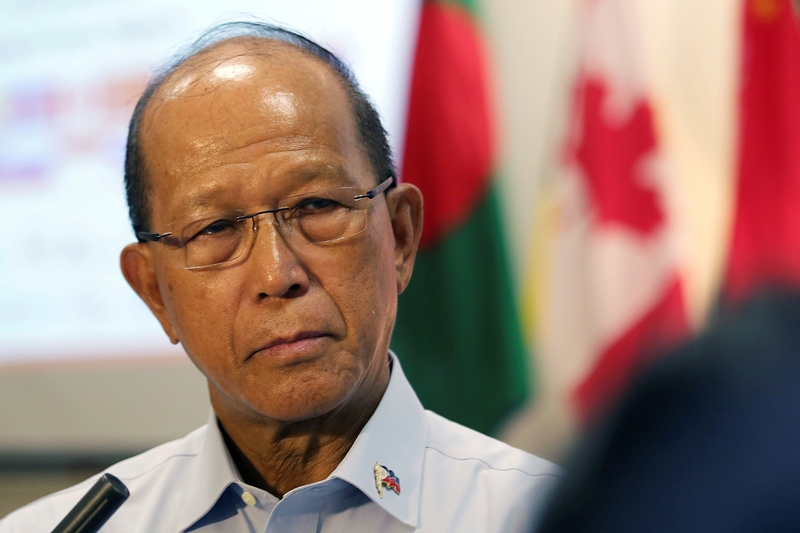 Defense Secretary Delfin Lorenzana made this call yesterday, even as he expressed confidence that any missile attacks by North Korea will not be directed towards the Philippines. AP/Wong Maye-E, File
DND treating North Korea nukes as civil defense issue
Jaime Laude
(The Philippine Star) - August 12, 2017 - 4:00pm
MANILA, Philippines - The Department of National Defense (DND) considers North Korea's missile threat as a civil defense rather than a military matter.
It also called on all countries involved in the mounting security situation in the Korean Peninsula to exercise sobriety and refrain from actions that may further escalate tensions in the rest of the Asia-Pacific region.
Defense Secretary Delfin Lorenzana made this call yesterday, even as he expressed confidence that any missile attacks by North Korea will not be directed towards the Philippines.
"Be that as it may, we call on all countries involved to exercise sobriety and refrain from actions that may escalate tensions not only in the Korean Peninsula, but the rest of the Asia-Pacific region as well," he said.
He said the Office of Civil Defense is now on standby and prepared to address any untoward incident that may occur in the aftermath of such a missile launch.
"While we believe that the threat of a missile launch the Democratic People's Republic of Korea (North Korea) is not directed at the Philippine archipelago, the DND is closely monitoring the situation in the region," he said.
Lorenzana earlier that since North Korea's missiles are not that accurate, it could land anywhere, including in the Philippines.
In dealing with this situation, the OCD is now closely coordinating with the Armed Forces of the Philippines (AFP) in determining potential areas, though highly remote, that would be hit.
"The OCD and the AFP may also issue no-sail-zone advisories to coastal areas and alert advisories to local government agencies to step up preparedness of local communities in case the debris of a missile launch reaches the Philippines," defense spokesman Arsenio Andolong said.
Tension has been mounting in the Korean Peninsula as North Korea's supreme leader Kim Jong-un threatened to launch multiple missile attacks on the US Pacific territory of Guam.
In return, US President Donald Trump on Friday declared that military solutions are now fully in place, "locked and loaded," should North Korea push through with its missile threat.
On the other hand, reports said Japan, declaring that it could never tolerate provocations by the reclusive state, moved its missile defense system into central Tokyo.