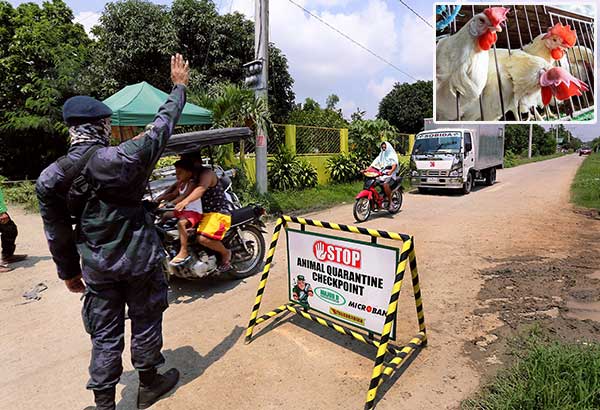 A delivery truck is flagged down for inspection at a checkpoint set up by the Department of Agriculture and local police in San Luis, Pampanga, where cases of bird flu have been confirmed. Inset shows chickens at the Baguio City Public Market yesterday. BOY SANTOS, ANDY ZAPATA JR.
Palace calls for calm, vigilance amid bird flu
MANILA, Philippines - Malacañang appealed yesterday to the people to exercise vigilance but remain calm following the outbreak of bird flu in San Luis, Pampanga.
Presidential spokesman Ernesto Abella said in a statement yesterday, "We ask our people to remain calm yet vigilant. Any person living or residing in affected areas or who had been exposed to dead chickens who becomes sick with flu or flu-like illness, such as fever and/or sore throat/cough, should immediately report to their local health center or nearest hospital for laboratory test."
The Palace said an intensified surveillance for flu-like syndromes is now enforced in Pampanga within a seven-kilometer radius of the affected farms.?
Abella also appealed for calm and sobriety among the population.
"As of this time, there has been no report of bird-to-human contamination," Abella?said a day after the Department of Agriculture announced plans to cull 400,000 chickens, quail and ducks after confirming the first outbreak of bird flu in the country.
"The Department of Health (DOH) assures our people that avian flu is transferred via respiratory routes. Properly cooked chicken meat and eggs remain safe to eat," he added.
According to Abella, the government has coordinated efforts to ensure that the situation is under control.
"We are closely monitoring the situation in Pampanga following the confirmation of avian flu outbreak yesterday by the Department of Agriculture (DA)," he said.
On Friday, DA reported the outbreak of bird flu in San Luis, Pampanga – the first in the Philippines – resulting in the burning of almost 40,000 chickens. Six poultry farms are affected in Barangays San Carlos and Santa Rita.
The DA is eyeing two possible sources of infections – the migratory birds from China that flock to the Candaba swamp in Pampanga and smuggled Peking ducks.
In 1997, human infections with H5N1 virus were reported during an outbreak in poultry in Hong Kong and the disease has since spread to Europe and Africa until 2013.
Human infection with H7H9 was also documented in China in 2013.
Abella said the DOH is assisting the DA for bird flu investigation and containment activities, which include flu vaccinations and protective equipment for poultry handlers and responders.
With the outbreak in Pampanga, the DOH has advised all medical workers to be on the look out for possible symptoms when attending to patients.
In a statement, the DOH said, "In the interim, all health providers should observe respiratory precautions when taking care of patients with flu or flu-like illness."
"A team of DOH epidemiologists has been dispatched to assist the DA in the outbreak investigation. The DOH has alerted hospitals in the affected areas to report similar cases," the agency said.
The DOH said the Research Institute for Tropical Medicine (RITM) has the capacity to confirm bird flu infections among humans and that they have adequate supply of anti-flu medication and commodities whenever regional health offices and hospital will require these.
The agency is coordinating with the DA and the United Nation's Food and Agriculture Organization and World Health Organization (WHO) to prevent human infection.
According to Health Secretary Paulyn Ubial, people should properly and thoroughly cook chicken to ensure it is safe for human consumption.
Ubial advised the public to see a doctor if they have flu symptoms that last longer than three days or if they feel very weak.
She also cautioned against going near wild birds or to farms with fowl.
Based on the WHO website, humans could be infected with avian and other zoonotic influenza viruses, such as avian influenza virus subtypes A(H5N1), A(H7N9) and A(H9N2) and swine influenza virus subtypes A(H1N1) and (H3N2).
The common initial symptoms for H5N1 and H7N9 are "high fever (greater than or equal to 38°C) and cough. The signs and symptoms of lower respiratory tract involvement including dyspnoea or difficulty breathing have been reported."
On the other hand, upper respiratory tract symptoms like sore throat or coryza are less common. Other symptoms such as diarrhea, vomiting, abdominal pain, bleeding from the nose or gums, and chest pain have also been reported in the clinical course of some patients.
Complications of infection include hypoxemia, multiple organ dysfunction and secondary bacterial and fungal infections.
For H5N1 virus infections in humans, the incubation period runs from two to five days and ranging up to 17 days. For H7N9 virus, incubation period ranges from one to 10 days, with an average of five days.
The website shows that 859 cases of bird flu in humans have been recorded in 16 countries, including Cambodia, Indonesia, Myanmar, Thailand and Vietnam.
Quarantine checkpoints
The Provincial Veterinary Office of Pangasinan has set up over 200 quarantine checkpoints in strategic areas in the province to prevent the possible contamination of the local poultry industry by the avian flu outbreak in San Luis, Pampanga.
Eric Perez, provincial veterinarian, told The STAR that the quarantine checkpoints in Aloo in Umingan, Carmen in Rosales, Bakit-bakit in Rosales, Bayambang, Mangatarem, Infanta, San Fabian and Sison would monitor the transport of chickens to Pangasinan from Pampanga.
Perez could not immediately provide the number of poultry farms in Pangasinan, but he said millions of chickens are transported from the province and are brought to dressing plants in Bulacan and Pampanga every week.
He will coordinate with other concerned agencies for the intensified quarantine checkpoints and monitoring in Pangasinan. – With Sheila Crisostomo, Eva Visperas