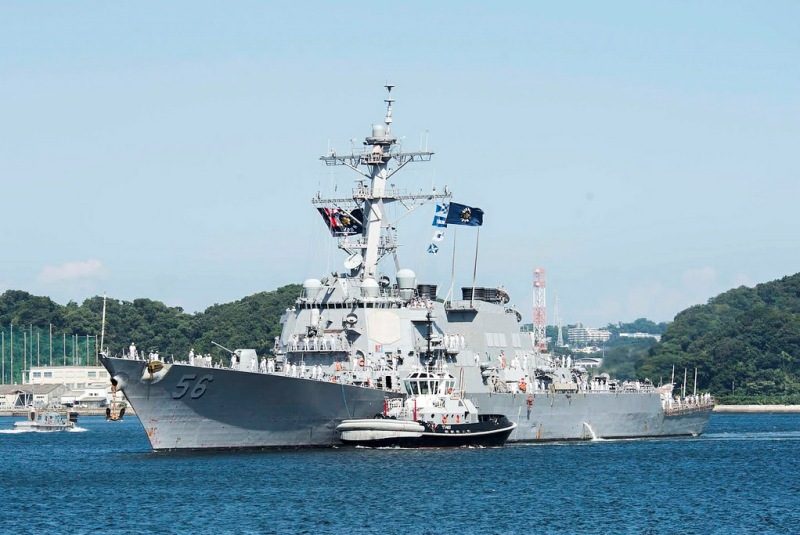 The guided-missile destroyer USS John S. McCain is forward-deployed to the US 7th Fleet area of operations in support of security and stability in the Indo-Asia-Pacific region. The US destroyer recently sailed within 12 nautical miles of Mischief Reef, one of China's artificial islands in the Spratlys. US Navy/Mass Communication Specialist 3rd Class Christian Senyk, file
Philippines: US destroyer in Mischief Reef not objectionable
MANILA, Philippines — The latest freedom of navigation operation of the United States near Mischief Reef in the South China Sea is not a cause of concern for the Philippines, a Malacañang official said Friday.
USS John S. McCain recently sailed within 12 nautical miles of Mischief Reef, one of Beijing's artificial islands in the Spratly Islands.
The Chinese Foreign Ministry expressed displease with the operation and said that they will bring up the issue with the US side.
"The US destroyer's actions have violated Chinese and international laws, as well as severely harmed China's sovereignty and security," the ministry said in a statement.
On the other hand, Presidential spokesperson Ernesto Abella said that the Philippines does not find the US operation objectionable.
"We're not the spokesman for the Chinese. On the other hand, in the words of [Defense] Secretary Lorenzana, the Philippines has no objection regarding presumed innocent passage of sea craft and that there is, in other words, freedom of navigation," Abella said in a televised press briefing.
Last May, the US launched its first freedom of navigation operation in the disputed the South China Sea, traveling near Mischief Reef.
READ: Challenging China, US launches first South China Sea operation under Trump | Beijing protests US Navy patrol through South China Sea
USS Dewey also sailed within 12 nautical miles of one of China's artificial islands, urging Beijing to seek an explanation with the US over the incident.
Mischief or Panganiban Reef, also being claimed by the Philippines, is included in the ruling of an international arbitration court based in the The Hague, Netherlands.
The United Nation-backed tribunal considered Mischief Reef as a low-tide elevation, which gives no entitlement to any exclusive maritime zone under international law.