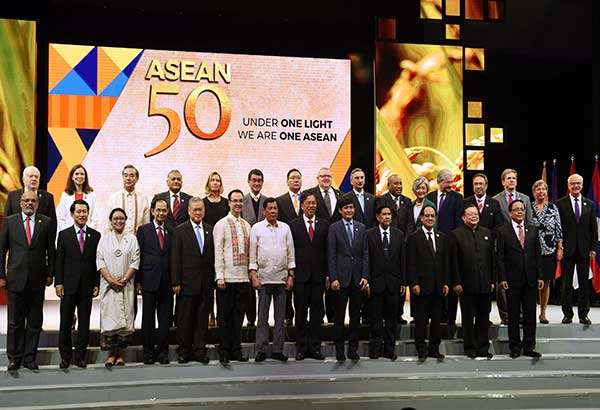 President Duterte poses with foreign ministers of Asean and dialogue partners during the closing ceremony of the 50th Association of Southeast Asian Nations regional security forum at the Philippine International Convention Center yesterday. AFP
Asean vows to fight drug menace, terrorism
MANILA, Philippines - Fighting the drug menace and terrorism with greater vigor highlighted the declaration of commitment by the Association of Southeast Asian Nations (ASEAN) at the end of its ministerial meeting yesterday and the celebration of the 50th anniversary of the regional bloc.
"We will comprehensively address cross-sectoral concerns, including nontraditional security issues and transnational challenges, such as illicit drug trafficking, trafficking-in-persons, terrorism and violent extremism," read the ASEAN Leaders' Declaration.
In his message at the closing of the ASEAN ministerial meeting, Foreign Affairs Secretary Alan Peter Cayetano said the Philippines now speaks in a "loud but calming voice" in pursuing its independent foreign policy.
The ASEAN leaders also vowed to continue promoting and protecting human rights and affirmed their recognition of human resources as the greatest asset of the region.
"We will continue to promote and protect human rights and fundamental freedoms, equitable access to opportunities and poverty eradication," the ASEAN Leaders' Declaration stated.
The regional bloc also voiced its commitment to support the empowerment of marginalized and vulnerable groups.
Other trans-boundary challenges the regional bloc hopes to address more closely in cooperation with the international community are disaster management, emerging infectious diseases and maritime-related issues.
ASEAN has also reaffirmed its commitment to maintaining and promoting peace, security and stability, including the peaceful resolution of territorial disputes in accordance with international law.
On Monday, Australia, the United States and Japan urged regional leaders to enhance cooperation in countering terrorism and pledged their continued support for relevant efforts.
Australian Foreign Minister Julie Bishop, Japanese Foreign Affairs Minister of Japan Taro Kono and US Secretary of State Rex Tillerson also expressed their concern over the loss of lives and the displacement of thousands in Marawi where government forces are fighting militants linked to the terror group Islamic State.
The three ministers met in Manila on Monday for their seventh Trilateral Strategic Dialogue.
The ministers also resolved to push for and strengthen existing information sharing mechanisms, such as those provided by the International Criminal Police Organization (Interpol), and to combat the flow of foreign terrorist fighters to and from conflict areas.