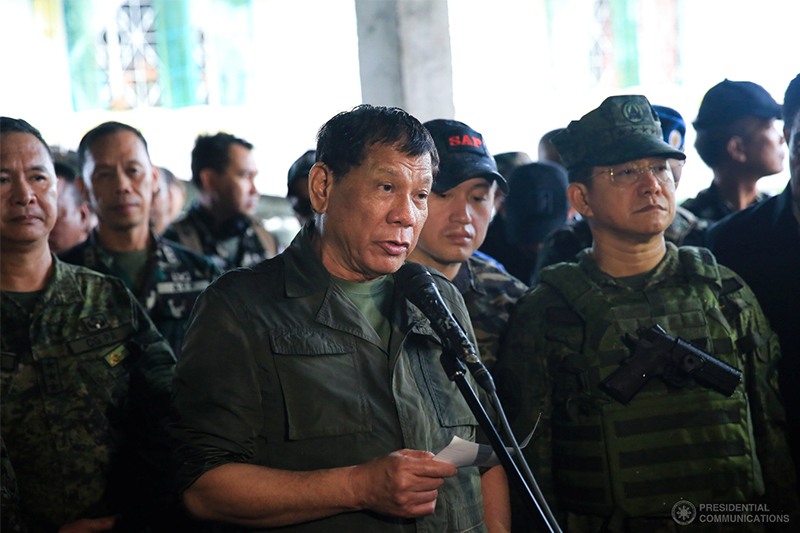 In egging them to stay alive, President Rodrigo Duterte promised the soldiers who fought in Marawi City an all-expense-paid trip to Hong Kong and other perks as soon as they get the job done. Presidential Photo/Albert Alcain
Rody to Marawi troops: Stay alive and visit Hong Kong
DAVAO CITY , Philippines – In egging them to stay alive, President Duterte promised the soldiers who fought in Marawi City an all-expense-paid trip to Hong Kong and other perks as soon as they get the job done.
Duterte expressed confidence the government is winning the battle against the remaining Maute terrorists still holed up in Marawi.
"We are winning in this battle. And as a prize for your valor, I might treat you to a trip to Hong Kong," Duterte said during a pep talk with troops at the frontline over the weekend.
He said the trip to Hong Kong would be an all-expense-paid family treat.
"Hong Kong – that's for free. You could even bring along your partner or wife," he said.
And if anyone does not want to avail himself of the all-expense-paid trip, Duterte joked they could choose to spend time with an actress.
Duterte vowed to give the troops more surprises.
"Go on (and stay alive). You will have so many surprises coming your way. I hope that (you) stay alive, fight cool, do not be in a hurry, do not go into a rage or you could lose yourself," he told the troops.
Duterte said he is hoping to see them alive and well in their next meeting.
"Take (your) time anyway the battle is almost over and try to be alive because we will be – hopefully, insha'Allah (God willing) we will be meeting each other. Thank you," the President said.
Meanwhile, to further boost the morale of troops in Marawi after more than two months of fighting the Maute extremists, Duterte is requesting for 20,000 recruits to the Armed Forces.
Malacañang said the request for additional 20,000 troops was meant to address ongoing threats and to rebalance the government forces clashing with terrorists in Marawi City,
Duterte sees the need to increase the number of government forces because of the "new" and "serious" threats in Mindanao, according to senators who met with the President last week.
"The request of the President for additional 20,000 troops is part of our intensified security posture to guard areas in the country where there are continuing security threats," presidential spokesman Ernesto Abella said in a statement yesterday.
"The deployment of troops to Marawi and other points in Mindanao needs to be rebalanced to ensure maximum effectiveness," he added.
Duterte cited the need to strengthen the military and the police in a press conference held after his second State of the Nation Address last July 24.
"The government, as a countermeasure, would start to call for a mobilization. I want the army added by about 20,000 fighting men. I have lost a considerable number of my soldiers in Marawi then I will add 10,000 to 15,000 soldiers. I want them to be SAF (Special Action Forces)," the President said
"I would need around 35,000 to 40,000 to meet the future threats coming our way from within and outside the country," he added.
Duterte said the public could expect a "very strong armed forces" in the next two years.
"We must have a strong republic to withstand all threats," he said.
The President has also promised to upgrade the equipment of the armed forces and the police to improve their defense capabilities.
He said among the assets to be acquired are 24 FA-50 jets from South Korea and rifles.
The military has been conducting air raids in Marawi City to flush out the remaining terrorists from the city. Not all airstrikes were successful though as two of them have resulted in the deaths of a dozen soldiers. – With Alexis Romero