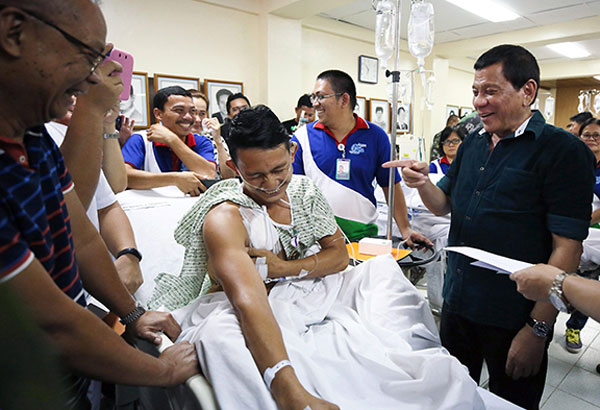 President Duterte shares a light moment with Cpl. Renante Guipitcio during a visit to wounded soldiers and policemen fighting in Marawi at the Adventist Medical Center in Iligan City. File photo
Duterte expands Order of Lapu-Lapu to honor Marawi heroes
MANILA, Philippines — President Rodrigo Duterte has expanded the Order of Lapu-Lapu to honor the heroism of government forces involved in the operations in battle-ravaged Marawi City.
Duterte created the Order of Lapu-Lapu through Executive Order No. 17 last April.
The order was awarded to officials and personnel of the government and private individuals in recognition of their "invaluable service in relation to a campaign or advocacy of the president."
Duterte said some acts of valor and kindness by people involved in the operations in Marawi City require the expansion of the Order of Lapu-Lapu.
The ongoing crisis in Marawi, the president said, "brought forth valiant and benevolent acts of civilians and members of the military to ensure the safety and security of Filipino citizens in Mindanao."
The expansion of the order was contained in EO No. 35 issued last July 28.
"There is a need to amend EO No. 17 to ensure that the Order of Lapu-Lapu is conferred upon all who are deserving of merit and recognition and to more fully express the President's appreciation of the Filipino people's contributions to the success of the campaigns and programs of the government," EO No. 35 reads.
The president added a fourth type of medal under the Order of Lapu-Lapu.
The Kamagi Medal will be awarded to government officials and personnel and private individuals who do not fall under any of the three other medals but who "actively participated in and contributed significantly to an activity pursuant to a campaign advocacy of the president."
A kamagi is a kind of beaded gold necklace from pre-Hispanic Visayas and Mindanao.
Other medals under the order are the Magalong Medal, which is awarded to those who have made exceptional contributions or rendered extraordinary service; the Kalasag Medal, which is bestowed on those who have lost their lives; and the Kampilan Medal, which is given to those who were seriously injured or have suffered great loss of property.