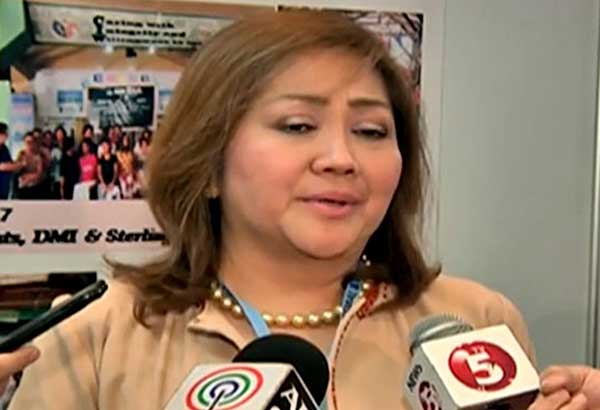 When did her husband become a Manobo? Emelita Alvarez tells ABS-CBN she doesn't know.

Speaker's wife bucks dissolution of marriage
Jess Diaz
(The Philippine Star) - July 28, 2017 - 4:00pm
MANILA, Philippines - The wife of Speaker Pantaleon Alvarez is against the legalization of dissolution of marriage and has claimed that he has "abandoned" her.
"Actually, I was abandoned right after the SONA (State of the Nation Address) last year when he became the Speaker," Emelita Apostol-Alvarez told ABS-CBN.
"We've been together for almost 30 years and I've been there since the very start, that was in 1988. We've been through ups and downs, I'm there and people of Davao del Norte will testify that I was even the one who campaigned for him, but anyway life should go on," she said.
Mrs. Alvarez did not attend President Duterte's second SONA last Monday. Her daughter Paola, an assistant secretary at the Department of Finance, was seen seated among the VIPs in the gallery.
Mrs. Alvarez said she did not go "to avoid any untoward incident."
She said she has long been aware of her husband's affair with another woman.
"There's pain. I wouldn't say there's no pain because that's being (a) hypocrite. But as I've told you, my faith is strong for a woman," she said.
She said despite the Speaker's decision to abandon her and their family home, she and her family continue to stay there.
She stressed she is not about to give up on her marriage.
"Why will I give up? My relationship is not illicit… So I just leave it up to God. My relationship with him is legal," Mrs. Alvarez stressed.
Asked if she has any message for her husband's new partner, Mrs. Alvarez said she hopes the woman would realize the difficulty of having a broken family.
"Sana lang that in the end, she would realize mahirap din 'yung pamilya na magkawatak-watak," she said.
The Speaker recently claimed that he is a Manobo whose members could have several wives.
Commenting on this, his wife said: "Actually when we got married, I know he's a Catholic … when he converted to IP (indigenous people) or Manobo, I don't know. I respect him for that. It's his faith."