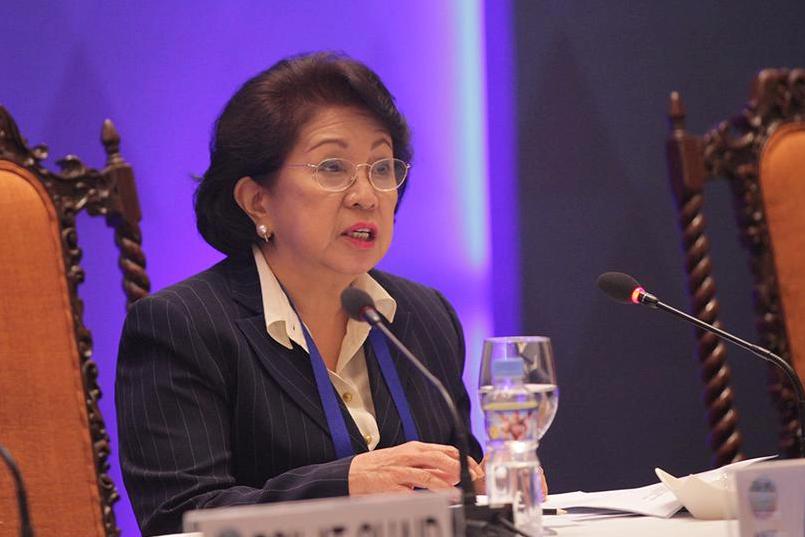 Ombudsman Conchita Carpio-Morales said on Friday that she did not attend the president's State of the Nation Address on Monday because no invitation was extended to her. APEC/Released, File
Ombudsman: I was not invited to Duterte's SONA
MANILA, Philippines — Ombudsman Conchita Carpio-Morales admitted on Friday that she did not attend the second State of the Nation Address of Duterte
on Monday
because she was not invited.
"I was not invited. It's okay. I don't care," Morales said, adding that she was not also invited during the president's first SONA last year.
"I was not invited last year, I don't expect to be invited this year. If there's a party or event for which you are not invited and you know [that] your friends are invited, I'm not sensitive about it," Morales said.
Duterte recently slammed Morales over the ombudman's statement in a recent interview with Japan's NHK World that his directive to kill criminals was "
not acceptable
" under any circumstance.
Morales said Duterte was "goading people to kill" with his repeated statements that policemen and even ordinary citizens had his blessing to arm themselves and kill criminals who resisted arrest and who put people's lives in danger.

Duterte answered back by challenging Morales to show him any law prohibiting him from threatening to kill criminals.
Duterte then went on criticizing the Office of the Ombudsman for being a "corrupt" agency, citing his experience as a Davao City prosecutor.
During a media conference after his State of the Nation Address on Monday, Duterte told
Morales not to cite soldiers and policemen in contempt
if they failed to appear before any of her agency's investigations, saying that he had the final say on whether or not they would attend them.
"Everything has to go through me… Whoever you will investigate, you have to course it through me. You address it to the DILG (Department of Interior and Local Government… If I say do not allow yourself to be investigated, you will not allow yourself to be investigated," Duterte said.
"Under the law, we have subpoena powers. We have orders for particular officials including police and soldiers to show up or to file pleadings. If they don't file pleadings, that's their lookout," Morales added.