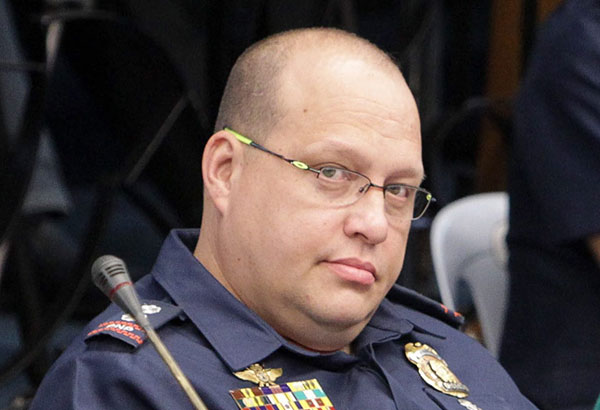 Ernesto Abella, the president's spokesman, said that talks about the promotion of Superintendent Marvin Marcos are premature. File
Palace: Let PNP's Marcos do his job
MANILA, Philippines — Malacañang on Thursday said that talk about the promotion of a police officer suspected of involvement in the killing of a Leyte mayor linked to illegal drugs is "premature" and called on critics to let him do his duty first.
The Palace statement came after a Senate panel probed into the return to active duty of Superintendent Marvin Marcos and his 18 men who have been charged over the killing of Albuera, Leyte Mayor Rolando Espinosa and his cell mate in their detention facility last year.
Ernesto Abella, the presidential spokesperson, said that Marcos, who was recently assigned as head of the Criminal Investigation and Detection Group in Region 12, should be given the opportunity to perform in his new capacity before talk about his possible promotion can be entertained.
Abella labeled such talk as premature as he tried to defend the decision to allow Marcos and the cops under him to return to active duty, which the chief of the Philippine National Police said was a decision "intimated" to him by the president.
"The Palace position is it's a bit premature to talk about these matters. It's better to let him do his job first and then and perform and see if there's any veracity for the new assignment. So it's really quite premature," he said in media conference in the presidential palace.
In a Senate committee hearing on Wednesday, Ronald Dela Rosa, the Philippines' top cop, said that Duterte had expressed his desire to reinstate Marcos since he was receiving his salary despite not doing any work.
Dela Rosa, popularly known as "Bato" in the Philippines because of his muscular build, said that, as a policeman, he is trained to follow orders.
"The president always intimated to me, whenever we talk, he said that kung puwede nang pagtrabahuhin 'yang mga taong 'yan, wala nang nagba-bar sayo. Patrabahuhin na yan, sayang sumusuweldo mga tao na yan, pera ng gobyerno, suweldo nila tapos wala silang ginagawa," said Dela Rosa.
This is not the first time that Dela Rosa has acceded to Duterte's orders.
During an earlier Senate investigation into the killings, it was revealed that Duterte "countermanded" Dela Rosa's suspension of the superintendent.
This was criticized by the Senate, which said that the chief executive should not be "micromanaging" the police.
During Wednesday's hearing, senators however were unconvinced and skeptical as some suspected that there was cover up in a move that basically discarded the findings of their probe and that of the National Bureau of Investigation that the killings were premeditated.
Duterte, who campaigned and won last year on a platform emphasizing a relentless campaign against illegal drugs, crime and corruption, has repeatedly said in the past that he would shield security forces from prosecution.
Early in July, he again made the vow and ordered the reinstatement of Marcos and the policemen involved in the search operation that resulted in the death of Espinosa and inmate Raul Yap.
The police said that Espinosa tried to fight back as they tried to serve him a warrant of arrest during the early hours of the morning, a highly suspicious move considering that the detained mayor was already committed to a jail facility and the order was served at such a late hour.