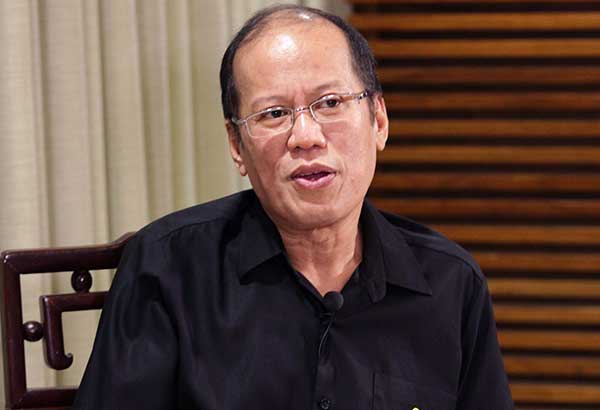 Former president Benigno Aquino III is interviewed by The STAR at his residence on Times street in Quezon City yesterday. JOEY VIDUYA
8 activists arrested at House plenary for unruly behavior
Jess Diaz
(The Philippine Star) - July 22, 2017 - 4:00pm
MANILA, Philippines - Eight student activists were arrested for disrupting yesterday's special session of the House of Representatives and the Senate on President Duterte's request for the extension of martial law in Mindanao up to yearend.
House security personnel apprehended the eight who unfurled banners and shouted their protest against martial law and its extension amid plenary deliberations on Duterte's request.
The students were later turned over to the police for investigation.
The eight students were brought to the Quezon City Police District (QCPD) headquarters at Camp Karingal.
QCPD director Chief Supt. Guillermo Lorenzo Eleazar said the eight students are facing cases of disturbance of proceedings in violation of Article 144 of the Revised Penal Code.
At least 50 protesters trooped to Camp Karingal and voiced their support for the eight students.
Arrested were Renz Pasigpasigan, Vince Simon, Chad Booc, Kenneth Cadiang, Michael Joselo Villanueva, JP Rosos, Jose Mari Callueng and Almira Abril.
Rosos is spokesperson for the League of Filipino Students, Callueng is president of the College Editors Guild of the Philippines, Simon is the Anakbayan De La Salle University chapter chairperson, and Abril is chairperson of the UP Diliman student party STAND-UP.
In a statement, militant youth group Anakbayan condemned the arrest and urged the immediate release of the eight protesters.
"To protest a grave injustice is justified. To protest against martial law in Mindanao and the threat of its extension and even expansion nationwide is especially justified," Anakbayan national secretary-general Einstein Recedes said.
Youth groups said extending martial law would further intensify abuses against the people. – With Janvic Mateo, Emmanuel Tupas