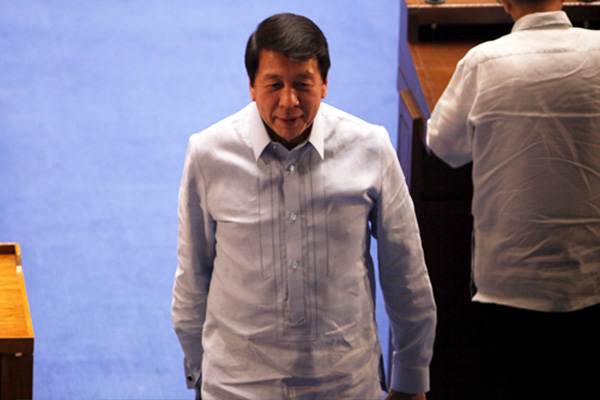 "The President will call the Congress to a special session on Saturday at 9 a.m. to consider the extension of martial law," House Majority Leader Rodolfo Fariñas informed the 294-member House. Philstar.com/AJ Bolando, File
Supplemental budget pushed for ML, Marawi rehab
MANILA, Philippines - Congress is amenable to approving a supplemental budget to fund the continued implementation of martial law in Mindanao in the next five months.
The proposed supplemental budget came up during deliberations on President Duterte's request to extend martial law in Mindanao until Dec. 31 at the joint session of the Senate and House of Representatives yesterday.
The two chambers, voting jointly, granted Duterte's request with a vote of 261-18.
Executive Secretary Salvador Medialdea, who led a contingent of Cabinet and security officials to face grilling from lawmakers, said Duterte plans to propose a supplemental budget to fund the operations against the Maute group and other extremists in Mindanao.
"This is the first time we have encountered this kind of situation. It's not an easy task to be running after rebels hiding in house, hiding in mosques, hiding under the ground," Medialdea told Senate Minority Leader Franklin Drilon.
House Minority Leader Danilo Suarez and Magdalo party-list Rep. Gary Alejano, a former Marine officer and critic of Duterte, suggested that Malacañang quickly draft a supplemental budget for congressional approval.
Medialdea and Defense Secretary Delfin Lorenzana could not give yet a figure on how much Malacañang would be asking Congress. A supplemental budget is distinct from the annual general appropriations passed by Congress mainly to fund government operations.
It was not clear whether the supplemental budget would include the proposed funding to rebuild Marawi City, whose infrastructure is in shambles.
Duterte had earlier announced that he was allocating P50 billion to rehabilitate Marawi but Lorenzana, martial law administrator, said the amount might not be sufficient based on his latest assessment of the damage caused by the conflict.