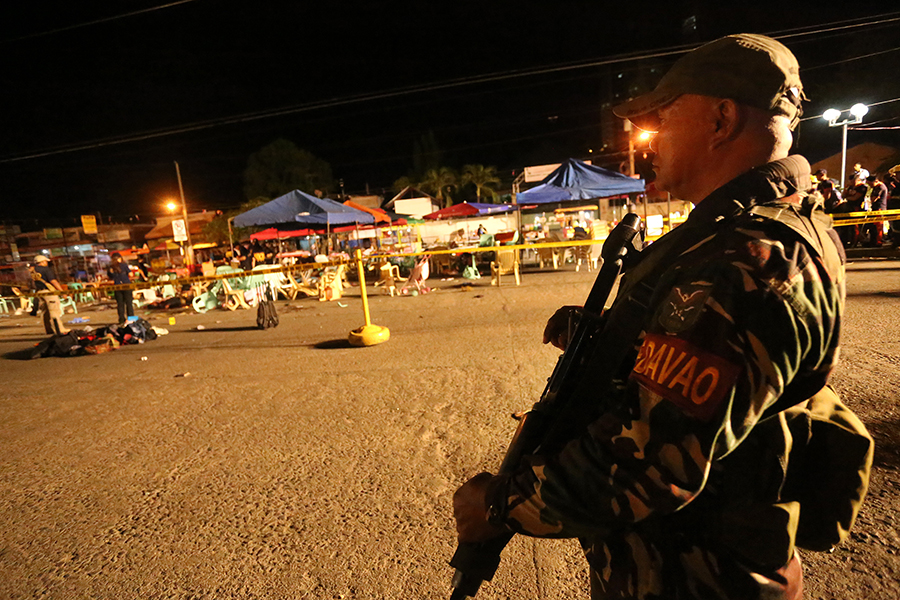 A soldier keeps watch at a blast site at a night market that has left several people dead and wounded others in Davao city, Philippines late Friday Sept. 2, 2016. The powerful explosion in Philippine President Rodrigo Duterte's hometown in the southern Philippines took place amid a security alert due to a major offensive against Abu Sayyaf militants in the region, officials said. AP/Manman Dejeto
Palace: Government addressing poverty to curb terrorism
MANILA, Philippines — The government is doing what it can to fight terrorism, Malacañang said Thursday, after the US State Department listed the Philippines as among the five countries with the highest incidences of terrorist attacks last year.
Presidential Spokesman Ernesto Abella said the Duterte administration has adopted a "whole systems approach" to curb terrorism, including efforts to alleviate poverty.
"We recognize that poverty in Mindanao and the sense of hopelessness it brings spawns terrorism. It is for this reason that while we are fighting terrorism, we are also fighting poverty," Abella said in a press briefing.
Abella said Duterte has also approved a comprehensive peace roadmap that "aims to provide peace and development by addressing the issue on the Bangsamoro."
"As they say, we can sign a hundred peace agreements but if those on the ground do not immediately feel the dividends of peace, those agreements will not be sustainable," the president's spokesman said.
"In other words, what we are doing is we really confronting it, engaging the situation with the whole systems approach," he added.
The Payapa at Masaganang Pamayanan, or PAMANA, program, which was launched in 2012, has been implementing projects to improve socioeconomic conditions and to bring basic services to conflict-affected areas primarily in Mindanao.
The program was part of the previous administration's "whole-of-government" approach to the peace process with the Moro Islamic Liberation Front.
Iraq, Afghanistan also on list
More than half of the 11,072 terrorist attacks happened in Iraq, Afghanistan, India, Pakistan and the Philippines, according to a US State Department report released last Wednesday.
The report said the emergence of extremists affiliated with the Islamic State of Iraq and Syria (ISIS), the persistent kidnappings by local terrorist group Abu Sayyaf, bombings and attacks on government forces "indicated that domestic and international terrorism remained a serious problem."
The US State Department report was released as the Philippines is grappling with the threats posed by the Maute group, a band of ISIS-inspired terrorists that laid siege to Marawi City last May 23.
A total of 421 terrorists, 99 government troopers and 45 civilians have died since the clashes started, according to latest military data.
The US State Department report also claimed that the Duterte administration's focus on the crackdown on illegal drugs "has increased workload and operational tempo for security forces."
Some investigations and responses to terrorist incidents, the report added, were inefficient because multiple agencies have jurisdiction over counterterrorism efforts.
"Responsibilities between law enforcement and military units involved in counterterrorism missions are often not clear, information sharing is moderate, and command and control arrangements often depend on personal relationships between incident commanders," the US State Department said.