Philippines, ASEAN states warned vs investment deals with China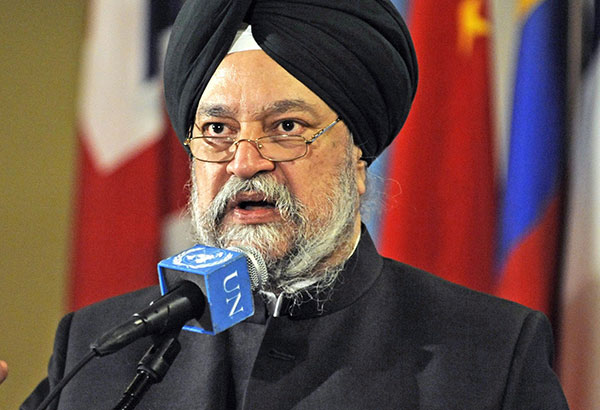 NEW DELHI – Member-countries of the Association of Southeast Asian Nations (ASEAN), especially the Philippines, should be cautious when entering into massive investment deals with China as they may end up paying more than what they bargained for, a scholar and former United Nations ambassador from India has warned.
In a lecture last week with 15 journalists from various Southeast Asian media outfits, including The STAR, India's Research and Information System (RIS) for Developing Countries chairman Hardeep Singh Puri said that while ASEAN countries must take advantage of China's aggressive investment policy especially on infrastructure, they must also see to it that their respective governments have the means to pay for the loans and that the projects are viable.
"I think the countries of ASEAN, each of them, whether small or large, have lots of resilience. But be careful about these schemes which bring lots of easy money," Puri said.
"It has to be (a) viable project. You have to be able to pay it back. If it will lead to debts and equity then drop it," he added.
Puri, a leading scholar and diplomat of India and a former president of the UN Security Council, cited the case of Sri Lanka's investment deals with China for the ambitious construction of a deep seaport and international airport in the remote Hambantota and Mattala regions, respectively.
Puri said the Sri Lankan government embarked on the investment deals with China only to find out later that the projects were not viable, as there were no accompanying developmental projects in the remote areas in order for Hambantota Seaport and the Mattala International Airport to attract vessels and cargo, as well as tourists.
Mattala International Airport is now considered the world's emptiest airport, Puri said, but its operation and maintenance continue to eat up a significant portion of government revenues.
Last October, the Sri Lankan government announced it was entering into a debt-for-equity swap deal with two private Chinese firms in order for them to shoulder a large portion of Sri Lanka's over $8-billion debt with the Chinese government.
Under the agreement, the Chinese firms will own majority shares in the two projects and will take over their operations. The Hambantota seaport is strategically located by the Indian Ocean.
"Sri Lanka's total GDP, about 65 percent-plus of that today is going to debt repair. Sri Lanka has got an annual debt of about $8 billion-$10 billion. If you have a small economy and about 70 percent goes into debt, you cannot run that country efficiently," Puri said.
The Duterte administration, according to Puri, should ensure that a similar case will not happen to the Philippines amid some $24-billion worth of loans and investments that the government secured from China last year, during President Duterte's first state visit there, $15 billion of which involve company-to-company deals.
A majority of the secured investments were for infrastructure such as ports, provincial railways, power plants and roads and bridges.
"Let me tell you, in this game, there is no philanthropy or altruism… In Sri Lanka, the debt is converted to equity...The problem is if debt becomes equity, you are into selling your country," Puri said.
Asked whether China's aggressive investment policy not only in the Philippines but also in other ASEAN countries has something to do with a supposed attempt to silence them on the issue of the territorial dispute over South China Sea, Puri said: "I would not hazard a guess. When a country embarks on a policy like that, it has its own motivations."