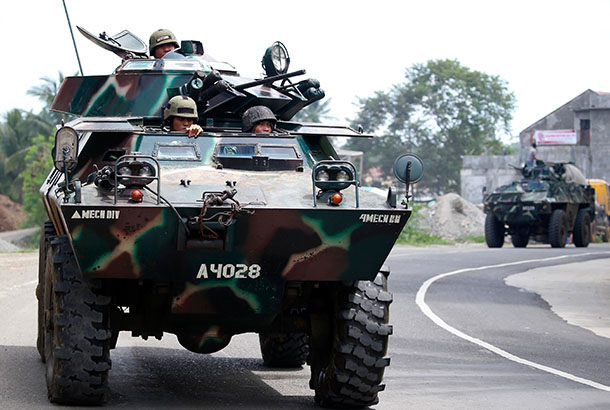 Col. Edgard Arevalo, chief of the Armed Forces of the Philippines (AFP) Public Affairs Office, gave the assurance in response to Duterte's assessment that more time is needed to defeat the militants linked to the Middle East-based Islamic State (IS). AP Photo/Bullit Marquez, File
AFP on Rody's 15 days: We're doing our best
Jaime Laude
(The Philippine Star) - July 12, 2017 - 4:00pm
MANILA, Philippines - The military is doing its best to end the siege of Marawi by Maute militants as soon as possible or within 10 to 15 days as projected by President Duterte.
Col. Edgard Arevalo, chief of the Armed Forces of the Philippines (AFP) Public Affairs Office, gave the assurance in response to Duterte's assessment that more time is needed to defeat the militants linked to the Middle East-based Islamic State (IS).
The President made the forecast in remarks at the Philippine Stock Exchange on Tuesday.
"The AFP will do its best, as it has been giving its level best, to crush the rebellion of the Maute-ISIS group," Arevalo said.
He said Duterte has basis for the 15-day forecast as the President has been receiving daily updates and is aware of the complexities of the operations against the terrorists.
For more than a month now, security forces have been conducting ground and air operations against the terrorists. The militants began their siege of the country's only Islamic city on May 23.
Despite heavy rain, air offensive continued yesterday. Bad weather slowed down ground operations, however.
The military said the terrorists were down to only 80 fighters holed up mostly in four locations in the city's commercial district.
A total of 381 terrorists, 90 soldier and 39 civilians have been killed since fighting began in May. Government troops have also recovered 461 terrorist firearms and rescued 1,723 civilians trapped in the war zone.
Philippine National Police (PNP) chief Director General Ronald dela Rosa echoed Duterte's assessment that the conflict in Marawi would be over in 15 days, noting that the President is very much aware of the situation on the ground. "That's a very good assessment coming from the President."
He also said that despite battlefield setbacks, the Maute terror group still poses a threat in other parts of Mindanao.
The National Capital Region Police Office (NCRPO), for its part, is also verifying reports on the presence of Maute militants in Luzon, possibly even in Metro Manila.
"We take these information seriously because if they were able to do it in Marawi, they can do it in other places," Dela Rosa told reporters, citing reports the terror group was planning attacks in other parts of Mindanao.
It is for this reason, Dela Rosa said Tuesday, that martial law should be extended in Mindanao.
But he stressed any extension should be within what is allowed under the law. "As I have said, we better not take chances," he said.
Dela Rosa on Tuesday had a closed-door meeting with senators during which he discussed, among other things, terror threats in other parts of Mindanao including Davao, Zamboanga peninsula, Northern Mindanao, Caraga, Autonomous Region in Muslim Mindanao and General Santos City.
He said security forces and even civilians were always on guard against possible terror attacks.
"They are very much aware that since they are in Mindanao, there is chance of a spillover of the problem in their area," said Dela Rosa.
Dela Rosa also revealed that three members of the Maute clan held on Tuesday at the Ninoy Aquino International Airport on suspicion of being terrorists were released yesterday.
"There is no reason to hold them further," said Dela Rosa, referring to Ashary Palawan Maute, Yasser Dumaraya Maute and Abdulraham Maute. The three were about to depart for Malaysia when accosted.
Reports said the Criminal Investigation and Detection Group (CIDG) did not find any evidence linking them to the Marawi siege.
"If we later find out these people are involved in the war in Marawi, then we have a reasonable ground to hold them," said Dela Rosa.
NCRPO Director Oscar Albayalde said he has asked Metro Manila mayors as well as Muslim leaders to cooperate with authorities in efforts to secure the metropolis.
"We do not take anything for granted. We are closely monitoring with our AFP counterparts to verify the information, especially on our intelligence operatives," he said.
Hopeful
Senators are hopeful that President Duterte would be able to end the crisis in Marawi City in 15 days, as this could mean there would be no need to extend the 60-day martial law in Mindanao that expires on July 22.
Sen. Joseph Victor Ejercito said while he is generally receptive to extending martial law if Duterte asks Congress for it, it would be better if it would no longer be needed.
Sen. Franklin Drilon from the minority said he is deferring to Duterte on his latest timetable.
"The President is presumed to have access to information which none of us would have; when he says he will finish it in 10 to 15 days, that we will defer to the judgment," Drilon said.
He said he is looking forward to the briefing of security officials to senators to guide them in the event they have to deliberate on a possible request for extension of martial law.
"So if that is where it is, then the decision of Congress will certainly be influenced by this assessment of the President… when he feels he can finish the problem in Marawi," Drilon said.
Meanwhile, a civilian hostage in Marawi who was reportedly able to secretly call his family said Fr. Teresito 'Chito' Suganob was being forced to make explosives by his captors.
"The Maute tasked the priest to collect the explosives and make improvised bomb," a relative of the civilian quoted the latter as saying during a clandestine phone call. The identity of the hostage was not revealed for security reasons. It was not clear how he was able to make a phone call to his family.
The hostage told his wife he could not pinpoint their exact location in Marawi but believed the soldiers were on track because of their constant skirmishes with soldiers. – Roel Parenño, Robertzon Ramirez, Emmanuel Tupas, Paolo Romero