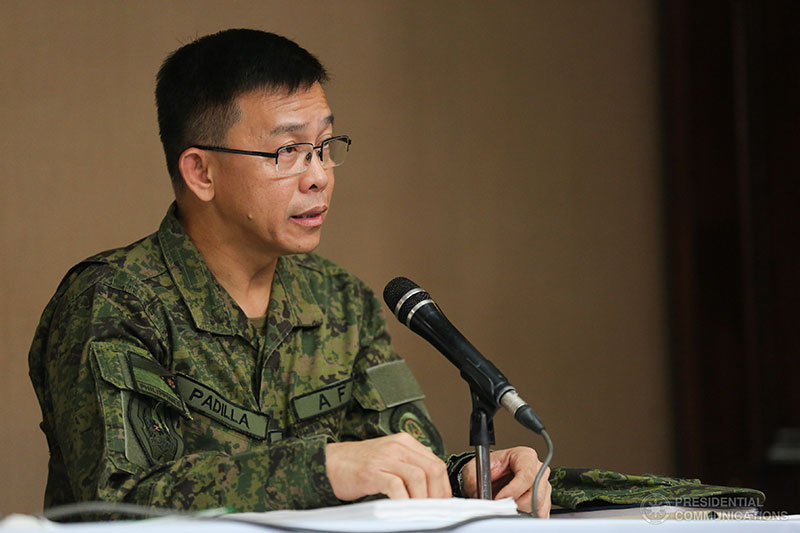 Armed Forces of the Philippines Spokesperson Brigadier General Restituto Padilla announces that government forces have already taken control of Marawi City during a press briefing at the New Executive Building in Malacañang on May 29. Presidential Photo
Military monitoring online terrorist propaganda
MANILA, Philippines — The Armed Forces of the Philippines is currently monitoring about 300 social media accounts spreading online propaganda in support of the Maute local terror group.
Brig. Gen. Restituto Padilla, spokesperson of the AFP, said that the military has asked for the help of the Philippine National Police Anti-Cybercrime Group to counter social media accounts helping the rebellion.
"In the process of monitoring and taking down of social media accounts that are proven to be supportive of terroristic activities, we need to work with the social media companies," Padilla said in a televised press conference at Malacañang.
Padilla added that the military is working with social media companies as they have direct contact with their regional offices.
"They have been very helpful, in fact, once a site has been proven or an account has been proven to be facilitating and supportive of terroristic activities, it is taken down immediately," Padilla said.
The military has taken down about 64 sites and is currently monitoring about 300 accounts.
Padilla noted that some of the sites could be based in the Philippines.
"We can't be sure yet because some of the sites may be out of the country... And that is the effort they're currently working on to locate," he said.
RELATED: AFP: Militants' number dwindling, fighting may be over soon