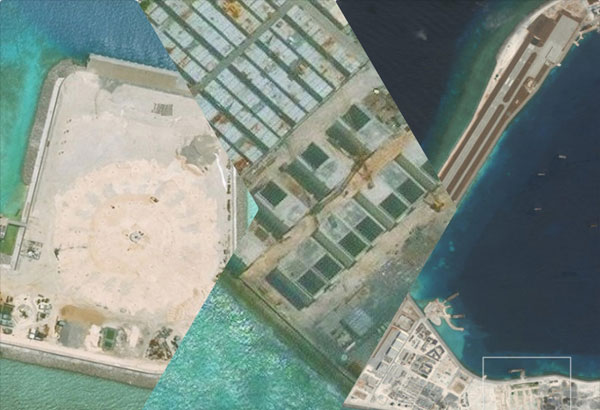 China has built new military facilities on islands in the South China Sea, a US think tank reported on Thursday, a move that could raise tensions with Washington, which has accused Beijing of militarizing the vital waterway. File
China builds military facilities in Spratlys
WASHINGTON – China has built new military facilities on islands in the South China Sea, a US think tank reported on Thursday, a move that could raise tensions with Washington, which has accused Beijing of militarizing the vital waterway.
The Asia Maritime Transparency Initiative (AMTI), part of Washington's Center for Strategic and International Studies, said new satellite images show missile shelters and radar and communications facilities being built on the Fiery Cross (Kagitingan), Mischief (Panganiban) and Subi (Zamora) reefs in the Spratly Islands.
The report said the building of a large antennae array on Mischief should be of concern to the Philippines. Last year, the United Nations-backed Permanent Arbitration Court had awarded the Philippines sovereign rights over Mischief off Palawan, which the Chinese began occupying in 1993.
The US has criticized China's build-up of military facilities on the artificial islands and is concerned they could be used to restrict free movement through the South China Sea, an important trade route.
Last month, a US Navy warship sailed within 12 nautical miles of Mischief Reef in a so-called freedom of navigation operation, the first such challenge to Beijing's claim to most of the waterway since US President Donald Trump took office.
China has denied US charges that it is militarizing the sea, which also is claimed by Brunei, Malaysia, the Philippines, Taiwan and Vietnam.
Trump has sought China's help in reining in North Korea's nuclear and missile programs, and tension between Washington and Beijing over military installations in the South China Sea could complicate those efforts.
China has built four new missile shelters on Fiery Cross Reef to go with the eight already on the artificial island, AMTI said. Mischief and Subi each have eight shelters, the think tank said in a previous report.
In February, Reuters reported that China had nearly finished building structures to house long-range surface-to-air missiles on the three islands.
On Mischief Reef, a very large antennae array being installed would presumably boost Beijing's ability to monitor the surroundings, the think tank said.
A large dome recently was installed on Fiery Cross and another is under construction, indicating a sizeable communications or radar system, AMTI said. Two more domes are being built at Mischief Reef, it said.
A smaller dome has been installed near the missile shelters on Mischief, "indicating that it could be connected to radars for any missile systems that might be housed there," AMTI said.
"Beijing can now deploy military assets, including combat aircraft and mobile missile launchers, to the Spratly Islands at any time," it said.
'Golden period'
In Manila, Chinese Ambassador Zhao Jianhua said Foreign Affairs Secretary Alan Peter Cayetano's visit to Beijing is timely as relations between China and the Philippines have entered a "golden period of fast development."
He said the two countries have signed 22 cooperative agreements in less than six months and China has become the Philippines' biggest trading partner for the first time.
"The agenda is very clear, for the enhancement of relations between China and the Philippines," Zhao said of Cayetano's meeting with Chinese officials.
Cayetano, who left for a four-day official visit to China last Wednesday, has met Chinese leaders, including Chinese foreign minister Wang Yi, according to Zhao.
"I think Secretary Cayetano is doing a very good job and the Chinese side attach great importance to his first official visit to China in his capacity as secretary of foreign affairs," the ambassador said.
"He has very good conversations with his counterpart Wang Yi," he said.
Zhao said the South China Sea issue would likely be tackled during Cayetano's meeting with Chinese leaders.
"I think this will be one of the topics. You know China and the Philippines have already established bilateral channel between the two ministries of foreign affairs to talk about the South China Sea and related issues, and that China has already been open and we would hope that it would be friendly and candid exchange of views through that bilateral channel," he pointed out.
In July last year, the Permanent Court of Arbitration in The Hague invalidated China's claim to almost the entire South China Sea and the West Philippine Sea.
Despite the legal victory, Duterte has chosen to put the ruling on the back burner, saying he would revisit it later in his term.
The arbitral tribunal's decision came three years after the previous Aquino administration turned to the court for help to assert the country's jurisdiction over land features in the West Philippine Sea coveted or already seized by China.
Beijing has vowed not to honor the ruling. – Reuters