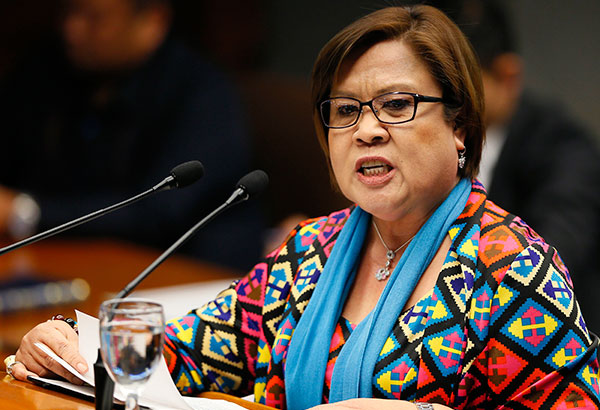 Sen. Leila De Lima described President Rodrigo Duterte's first year as full of lies, fake news and fake cases. File
De Lima on Duterte's first year: Full of fake news, lies
MANILA, Philippines — Sen. Leila De Lima, detained on drug-related charges, described on Friday President Rodrigo Duterte's first year in office as full of lies and fake news.
De Lima gave her assessment as she emerged from a Muntinlupa City court where she faces several cases stemming from her alleged involvement in the illegal drug trade at the national penitentiary.
The senator called on the administration to stop the killings allegedly related to its brutal campaign against illegal drugs.
Drugs could be eliminated by employing measures in accordance with the law, De Lima said.
She said that under Duterte, the nation had seen a lot of lies and persecution especially of her critics while failing to fulfill many of his campaign promises.
De Lima also blasted Duterte for the proliferation of fake news and cases such as those filed against her.
"Isang taong mga kasinungalingan. Isang taong panggigipit. Isang taong pagmumura at pambabastos. Isang taong mga pangakong napako. Lalo na yung mga kasinungalingan. Fake cases. Lalo na itong mga paratang sa akin. Fake cases, fake news," she said.
De Lima has been a thorn on the side of Duterte since her days as chairperson of the Commission on Human Rights during which she initiated an investigation into alleged extrajudicial killings done by a death squad allegedly maintained and supported by the former Davao City mayor.
As chairperson of the Senate justice panel, De Lima sought to probe the killings in Davao and those related to the administration's campaign against illegal drugs, presenting alleged former members of the liquidation squad which supposedly moved upon the direct orders of Duterte.
De Lima, the justice secretary of the previous administration, was eventually ousted as head of the Senate panel and replaced by Sen. Richard Gordon.
In March, De Lima was detained following an arrest warrant issued by a Muntinlupa City Regional Trial Court, one of the three hearing cases against the senator.
In another of her missives from Camp Crame where she is detained, De Lima said that Duterte's war on drugs had resulted in the deaths of thousands of urban poor Filipinos, including children.
"Makalipas ang isang taon, nasaan na tayo? Nagresulta lang ang inyong 'war on drugs' sa pagpatay at patuloy na pagpatay ng libu-libong Pilipino—karamihan ay mga maralitang walang kalaban-laban, kabilang ang mga inosenteng bata," she said.
International and local human rights groups have claimed that the drug war has claimed more than 7,000 killings, including children who were inadvertently shot by policemen.
The Philippine National Police has disputed this number, insisting that some of the deaths were still under investigation and should not be counted as part of drug-related killings.
De Lima said that the government should go after the big drug lords and dealers and their protectors in the government, police and military.
Ironically, the government is accusing De Lima of coddling drug groups at the National Bilibid Prison during her time as DOJ chief in exchange for financial support for her senatorial campaign last year.
"Itigil na ninyo ang mga patayan! Maaaring magpatuloy ang kampanya laban sa droga nang walang EJK at pag-abuso sa karapatang pantao. Ang tugisin ninyo, sa pamamaraan na sang-ayon sa batas, ay yung mga tunay at malalaking drug lords at drug dealers at ang mga protektor nila sa pamahalaan, kapulisan at military," she said in her so-called dispatches.
She warned Duterte: "May hangganan ang lahat, Ginoong Pangulo."