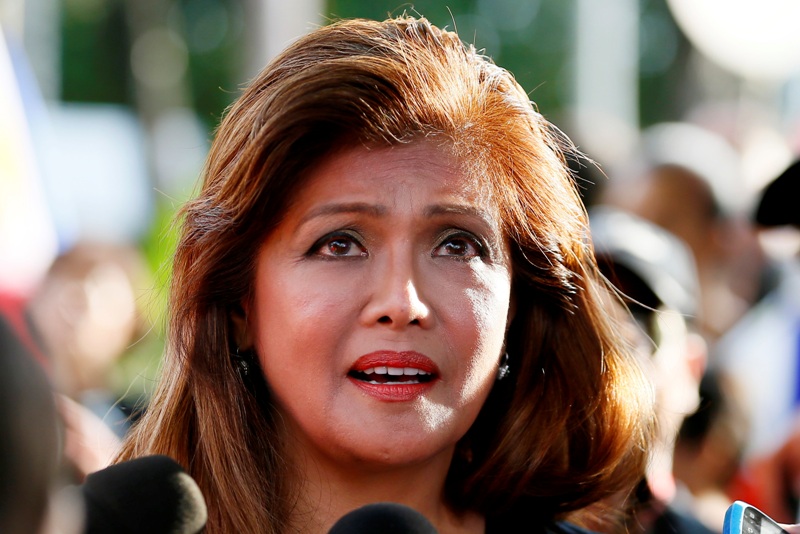 Gov. Imee Marcos, the eldest daughter of the late Philippine dictator Ferdinand Marcos, talks to reporters as she joins supporters in marching towards the Supreme Court for an overnight vigil Monday, Nov. 7, 2016 for the possible ruling on whether Marcos will be buried or not at the Heroes Cemetery in Manila, Philippines. The Philippine Supreme Court has set for Nov. 8 its decision after two postponements. AP/Bullit Marquez
House issues subpoena for Imee Marcos to attend tobacco funds probe
MANILA, Philippines — The House of Representatives on Wednesday released the subpoena against Ilocos Norte Gov. Imee Marcos, who has skipped the past four hearings into the alleged misuse of tobacco excise funds released to the province.
"You are hereby directed to appear before the Committee on Good Government and Public Accountability of the House of Representatives to testify under oath, relative to the subject matter under inquiry on the Committee hearing scheduled July 25, 9:30 a.m.," an excerpt of the subpoena read.
With the issuance of subpoena, Marcos was also asked to prepare a written statement under oath, 48 hours before the hearing. She is also allowed to be assisted by legal counsel during the inquiry.
If Marcos fails to attend the hearing on July 25, she may be detained for contempt.
"Failure to comply with this order is subject to penalty under the law," the subpoena stated.
Previously, the House panel repeatedly called on Marcos to attend the past four hearings to explain the Ilocos Norte provincial government's alleged misuse of P66.5 million in tobacco excise tax funds. Despite warnings that a subpoena would be issued against her, Marcos did not appear before the panel.
Marcos's mother, Ilocos Norte Rep. Imelda Marcos, however, attended the fourth hearing on June 20 to request for the release of six provincial government employees detained at the House for contempt.
The subpoena was dated June 25 but was only received by the House of Representatives' Office of the Secretary on June 27. It was released to the media on Wednesday.
It was signed by House Speaker Pantaleon Alvarez, Surigao del Sur 2nd District Rep. Johnny Pimentel as committee chairman, and House Secretary-General Cesar Pareja.
The House committee earlier detained six employees of the Ilocos Norte government, now known as the "Ilocos Six," after being cited for contempt for refusing to state their knowledge on the tobacco excise funds.
The six detained public employees are Bids and Awards Committee and Provincial and Planning Development Unit chair Pedro Agcaoili, Provincial Treasurer Josephine Calajate, accountant Edna Battulayan, Provincial Budget Officer Evangeline Tabulog, and Treasury Office employees Genedine Jambaro and Encarnacion Gaor. They have been detained at the House Legislative Building.