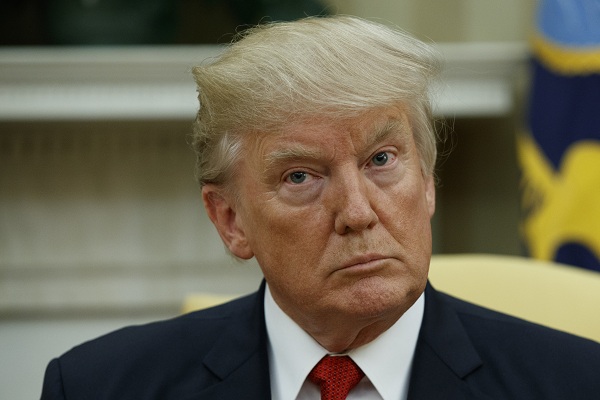 President Donald Trump listens in the Oval Office of the White House in Washington, Monday, June 26, 2017. Democrats are out to capitalize on what they believe is growing public sentiment that President Donald Trump, the richest man to call the White House home, is turning his back on the regular people who got him elected in favor of his wealthy peers. The party is hoping that pitch will pack extra oomph at a time when even some Republicans are raising concerns that the GOP health-care plan could hurt the poor. AP/Evan Vucci
Pew survey: Filipinos trust Trump, Xi, Putin in world affairs
MANILA, Philippines — Many Filipinos expressed confidence that US President Donald Trump would do the right thing in world affairs, according to a new survey, bucking a global trend of distrust in the American leader who has already been rocked by a string of scandals in less than a year in office..
Almost seven in 10 Filipinos have confidence that the American president would do the right thing regarding global affairs, providing a sliver of silver lining for Trump, who is trusted only by a median of 22 percent in 37 nations surveyed by the Pew Research Center.
Slightly more than half of Filipinos also expressed confidence in Chinese President Xi Jinping and Russian President Vladimir Putin. The Chinese leaders' global trust median is at 28 percent.
Xi got significant support from the Philippines, where he obtained a trust rating of 53 percent as Philippine President Rodrigo Duterte tries to improve the once-frosty relationship with the world's second largest economy.
More than half of Filipinos are confident that Putin will do the right thing on the global stage. The Russian president, in contrast, got a median trust of only 27 percent.
Among the global leaders included in the study, German Chancellor Angela Merkel enjoyed the highest median trust at 42 percent.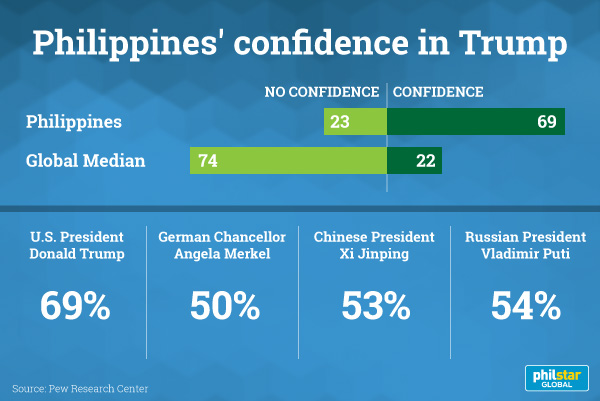 Filipinos' sentiments on Trump, Xi and Putin are in contrast to the general global distrust placed in these world leaders.
Among 37 nations, a global median of 74 percent did not trust Trump, whose presidency has been rocked by a train of scandals currently engulfing Washington, D.C., the most serious of which, allegations that his campaign benefitted from Russian meddling in American elections, is threatening his hold on power.
The survey results would surely not sit well with the ratings-obsessed American leader, especially if he compares his result with that of his predecessor, Barack Obama.
Even at the latter stages of his presidency, Obama still enjoyed a solid trust rating of 64 percent with 94 percent of Filipinos expressing confidence in the former president.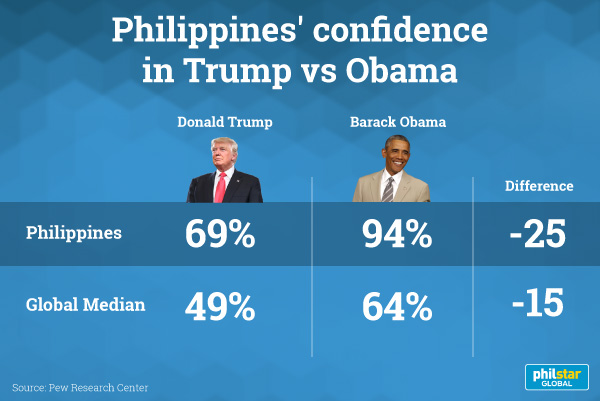 "The sharp decline in how much global publics trust the U.S. president on the world stage is especially pronounced among some of America's closest allies in Europe and Asia, as well as neighboring Mexico and Canada," Pew Research Center said in its newly-released study.
Confidence in Trump is influenced by his policies, many of which are unpopular globally.
"His plan to build a wall along the U.S.-Mexico border, for example, is opposed by a median of 76% across the 37 countries surveyed. Opposition is especially intense in Mexico, where more than nine-in-ten (94%) oppose the U.S. government erecting a wall," the study said.
China, Russia are Philippines' new friends
The popularity of Xi and Putin in the Philippines, who have been criticized by the international community for blatant human rights abuses and crackdown on critics, could be partly attributed to the admiration that the tough-talking Duterte had expressed for the two as well as Trump.
READ: Duterte among 'strongman' leaders Trump has praised
Duterte has also been trying to repair damaged relations with China over long-running disputes in the South China Sea where the two countries have overlapping claims.
The Filipino president wants to attract Chinese money and investments into the Philippines as he embarks on his ambitious infrastructure plan and spending measures.
In turn, Trump, Putin and Xi have also praised Duterte for his hardline stance on many issues, especially the Philippine leader's pet campaign, the war on drugs. Trump has even invited Duterte to visit the White House.
READ: White House: Invite to Rody mostly about North Korea
White House: Invite to Rody mostly about North Korea
The global study surveyed 40,447 people in more than three dozen countries from Feb. 16 to May 8.