Gabriela blasts Lorenzana's fake news claim on rape threats in Marawi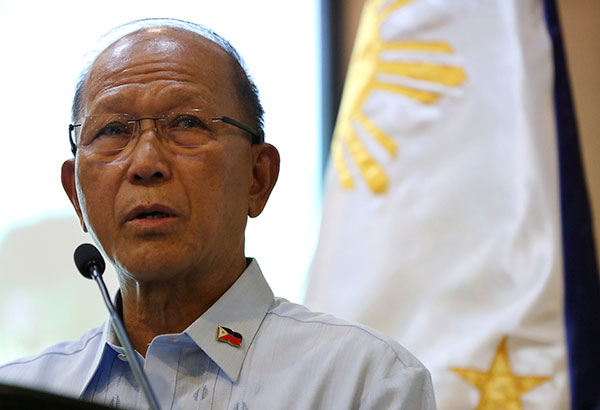 MANILA, Philippines — A women's group on Tuesday condemned Defense Secretary Delfin Lorenzana's response to the alleged rape threats by soldiers in Marawi City.
In a statement, Gabriela Women's Party said they found it worrisome that Lorenzana dismissed their account on rape threats in Marawi City as "fake news" and even resorted to "red tagging."
"We condemn such response to our concerns, as he was quick to preclude any investigation into the claims of rape threats. With such defensive response, Secretary Lorenzana is substantiating the women victims' fear of the military," Gabriela said.
Gabriela then taunted Lorenzana's fake news claim and reminded him that he retracted his self-imposed deadline on the Marawi crisis and was "quick to claim that Marawi City Hall was taken over by armed men," which was denied by Marawi City Mayor Majul Gandamra who was there in the city hall.
"Now who is peddling fake news?" the party said.
FACT CHECK: Inconsistencies in Duterte's martial law report
On Tuesday, Lorenzana said the alleged threats purportedly encouraged by the president's remark are part of the propaganda used by the enemy to win sympathy among the people of Marawi.
READ: Duterte tells troops in jest: I will answer for your rape cases
The party dared Lorenzana to spend a couple of days in Marawi City and nearby evacuation centers to speak with displaced women and children and conduct a grounded assessment which is "not based on guesswork and imagination."
The Department of National Defense, Armed Forces of the Philippines, and the Philippine National Police have earlier denied the rape allegations against uniformed men.
'We stand by accounts of rape threats vs AFP'
Despite the denial, Gabriela stands by the accounts of women in Marawi City who complained of rape threats from members of the AFP.
"It was GWP Rep. Arlene Brosas who personally heard the spontaneous disclosure of women regarding the rape threats, when she and representatives from the church sector, Moro organizations and other groups participated in the National Interfaith Humanitarian Mission last June 14-15," the group said.
"The fact that there were women in Marawi who complained of rape threats, regardless if they are substantial in number or not, should be enough cause for alarm especially in view of AFP's record of abuses against women," it added.
Gabriela said they also have the identities of the victims but they could not disclose them to the public since it is a very sensitive issue.
Last week, the party also filed House Resolution 1085 to urge lawmakers to conduct an inquiry into the Marawi crisis and the alleged rape threats as well as the conflict's impacts on women and children.