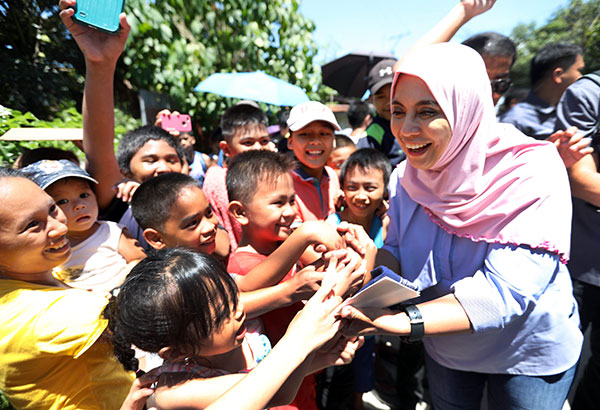 Vice President Leni Robredo greets children at an evacuation center in Iligan City yesterday. OVP PHOTO
Donations pour in for slain soldiers' kin, evacuees
(The Philippine Star) - June 26, 2017 - 4:00pm
MANILA, Philippines - Donations continue to pour in for families of soldiers killed in the Marawi conflict and for other displaced persons since the military opened two bank accounts last week.
As of yesterday, the Armed Forces of the Philippines (AFP) said it has already raised more than P2 million – P1,773,949 for the families of slain soldiers and P345,520 for other displaced persons.
"There has been a continuing overflow of support for our soldiers and their orphans in particular, and to the IPDs and evacuees in Marawi," said Col. Edgard Arevalo, AFP chief of public affairs.
"For purposes of transparency, we're going to publish how these funds are used," he added.
The AFP opened two bank accounts last June 19 in response to a flood of queries as to how people could give financial help to internally displaced persons (IDPs) and families of troops killed in action.
Landbank account 00000552107128 was opened for donations for families of soldiers who have died in battle while Landbank account 00000552107136 is for evacuees or displaced persons.
Vice President Leni Robredo, who visited the evacuation center for the Balo-i minority, called on government forces to also pursue peace negotiations with different rebel groups to achieve lasting peace in Mindanao.
"I really believe that we need to show them that we are serious with the peace process because that's what they have been asking for for a long time," Robredo said in an interview in Lanao del Norte.
Wearing a hijab, Robredo met with some women weavers in the evacuation centers who are beneficiaries of her office's Angat Buhay program.
More than 100,000 persons have been displaced by the fighting between government troops and the Maute terrorist group in Marawi City.
She said many evacuees want to return to their homes while a number claimed several of their relatives were still trapped in the city.
"We want them to reunite with their families," said Robredo, who called on Filipinos to unite and help rebuild Marawi.
Rather than criticize the government, the Vice President said Filipinos must do their share to help address the needs of the people affected by the ongoing firefight.
"I think the government has been doing everything that it can. We can only hope that this will end soon," Robredo said.
The conflict, which erupted last month, has displaced some 246,000 people and killed more than 350, most of them rebels.
Fighting resumed in Marawi yesterday, a day after a unilateral truce was declared by the military for eight hours to mark the Eid'l Fitr Islamic holiday and try to rescue civilians trapped in the conflict zone.
The Israel embassy has turned over P1 million worth of basic equipment, medicine and supplies to the Philippine Red Cross (PRC) to support the immediate needs of those affected by the terroristic attack in Marawi.
Ambassador Effie Ben Matityau said Prime Minister Benjamin Netanyahu instructed them to provide assistance to the affected people of Marawi and its surrounding areas.
The PRC set up a basic health care unit in Balo-i, Lanao del Norte to provide basic, preventive and health care emergency treatment and medical supplies.
"We would like to wish the people of Marawi a solemn end to the holidays of Ramadan and Eid'l Fitr celebration. We all hope for a speedy return of the population to their homes and normal life in time for the celebration, and that peace and national harmony will be restored," Matityau said.
The Israeli donation includes the emergency cart, suction machine, portable nebulizer machine, portable ECG machine, portable doppler, pulse oximeter, oxygen tank, basic medicine package, emergency medicines and medical supplies. – With Helen Flores, Pia Lee-Brago