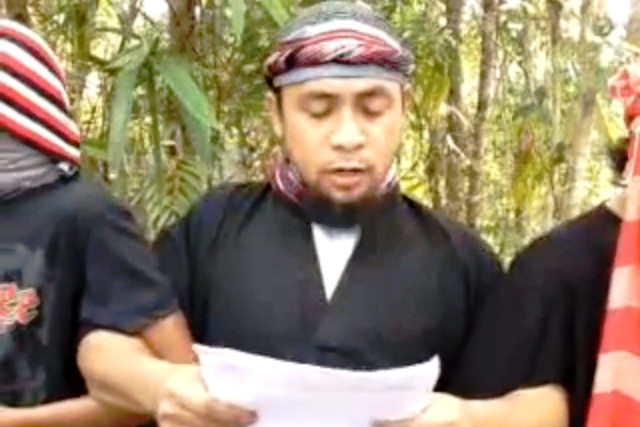 Abu Sayyaf group senior leader Isnilon Hapilon swore allegiance to ISIS as seen in a YouTube video posted in July 2014. File photo
AFP: Hapilon has likely abandoned Maute group
MANILA, Philippines — Abu Sayyaf leader Isnilon Hapilon, one of the world's most wanted terrorists, may have already abandoned the Maute group which has laid siege in Marawi City, the military said on Monday.
According to the Armed Forces of the Philippines, the terror leader has not been seen in the city lately.
"We have those reports that indicate that because we monitor them according to our sources on the ground and from those we have rescued. Most of them were not quite able to say they saw Isnilon Hapilon lately so these are some indicators that he has abandoned his people already," Col. Edgard Arevalo, AFP Public Affairs chief, said in an interview with CNN Philippines' The Source.
Arevalo added that Hapilon leaving his people in Marawi indicate that the local terror group's leadership and command control is collapsing due to intense pressure from government forces.
Hapilon, who had been touted as Islamic State emir for Southeast Asia, is wanted for the 2001 kidnapping of three Americans, among other foreigners, in the Philippines. A security operation against him sparked clashes in Marawi on May 23. Fighting in the city has entered its second month since.
The reported death of Malaysian Mahmud bin Ahmad was also a big blow to the ISIS-inspired local terror group, according to Arevalo.
READ: Omar Maute, Malaysian financier likely killed in siege | Terror leader Hapilon may have fled Marawi
"He was the former adviser of this group. He is the direct link with the [Islamic State] in Iraq and Syria and he is actually providing guidance to this group specifically to how they will fight government," Arevalo said.
Mahmud, an important figure in the Maute group, has reportedly been buried in one of the cemeteries of Marawi. The military is yet to verify this report.
The military also received reports that there have been fighting among Maute group members following the death of their Malaysian financier.
"We have reports that we received that they are already starting to shoot those who would like to desert their group and we also have reports that indicate that there have been in-fighting between and among the leaders of Maute-ISIS group because they feel that government forces are really closing in," the military official said.
One of the Maute brothers and Mahmud had been killed in the early days of intense fighting in Marawi.
Mahmud was suspected of channeling more than P30 million to the Maute group to acquire firearms, food and other supplies for the attack on Marawi.