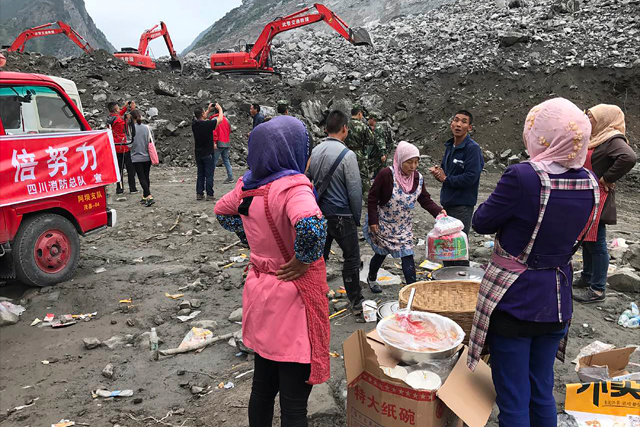 Women watch as earthmoving equipment digs at the site of a landslide in Xinmo village in Maoxian County in southwestern China's Sichuan Province, Sunday, June 25, 2017. Crews searching through the rubble left by a landslide that buried a mountain village under tons of soil and rocks in southwestern China on Saturday found bodies, but more than 100 people remained missing. AP / Ng Han Guan
Philippines condoles with kin of China landslide victims
MANILA, Philippines — The Department of Foreign Affairs said Sunday that the Philippine government extends its deepest sympathies and condolences to the families of the victims of the landslide in Xinmo, Sichuan Province, China.
The government has also expressed support to China amid the tragedy.
"We are one with the government and people of China during this difficult time," the DFA said.
On Saturday, a landslide occurred in Xinmo village in Maoxian County in southwestern China's Sichuan Province, leaving a mountain village buried under tons of soil and rocks.
According to Xinhua News Agency, 3,000 rescuers responded to the landslide. The provincial government of Sichuan released the names of the 118 people believed caught in the landslide while 15 bodies have been recovered.
The Associated Press said it is unclear if the 15 bodies found have been identified. —With reports from Associated Press