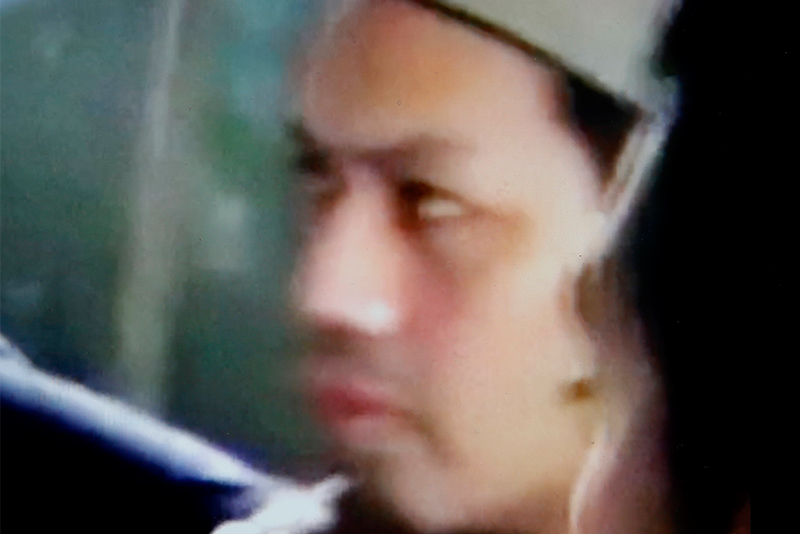 This image taken from an undated video shown to The Associated Press by the Philippine military shows Malaysian militant Mahmud bin Ahmad who helped lead and finance the siege in southern Marawi city. Armed Forces Chief Gen. Eduardo Año told The Associated Press on Friday, June 23, 2017, that Mahmud bin Ahmad died June 7, 2017, from wounds sustained in fighting with government troops in Marawi last month. Philippine military via AP
Malaysian financier in Marawi siege believed to be dead
(Associated Press) - June 23, 2017 - 3:34am
MANILA, Philippines (Updated 2:29 p.m.) — A Malaysian militant who helped lead and finance the siege of a southern city is believed to have been killed as the local jihadis aligned with the Islamic State group become increasingly constricted after a month of fighting, the military chief said Friday.
Gen. Eduardo Año told The Associated Press in a telephone interview that Malaysian Mahmud bin Ahmad was wounded in the fighting in Marawi last month and reportedly died on June 7 of his wounds. He said the military has a general idea of where the militant was buried and troops are trying to locate the exact spot with the help of civilians to recover the remains and validate the intelligence that was received. A local militant leader, Omarkhayam Maute, also is believed to have been killed in the early days of intense fighting, he said.
Ano, citing intelligence shared by foreign counterparts, said Mahmud was suspected of channeling more than 30 million pesos ($600,000) from the Islamic State group to acquire firearms, food and other supplies for the attack.
A former Malaysian university professor who later turned into a jihadi and received training in Afghanistan, Mahmud appeared in a militant video showing militant leaders planning the Marawi siege in a hideout, a sign of his key role in the uprising. The AP obtained a copy of the video, which was seized by Filipino troops in a militant hideout on May 23.
Malaysian security officials have also received information of Mahmud's killing in Marawi and were trying to confirm it.
Two other leaders of the uprising, top Filipino militant suspect Isnilon Hapilon and Maute's brother, Abdullah, were still with other gunmen fighting in Marawi, Año said.
A month ago, about 500 local militants, along with several foreign fighters, stormed into Marawi, a bastion of Islamic faith in the south of the predominantly Roman Catholic nation. Troops since then have killed about 280 gunmen, recovered nearly 300 assault firearms and regained control of 85 buildings. Many of the high rises were used as sniper posts to slow down the advance of government forces, the military said.
At least 69 soldiers and policemen and 26 civilians have also perished in the fighting.
Of the 19 of 96 villages across the lakeside city of 200,000 people that the black flag-waving militants occupied, only four villages remain under their control, Año said.
"They are constricted in a very small area. They're pinned down," Año said. He also said three boatloads of gunmen, who tried to join the militants, were blasted by navy gunboats three days ago in Lanao Lake, which borders Marawi.
The gunmen may have either been militants repositioning from nearby areas or rebel reinforcements from elsewhere, he said.
Still, the audacious uprising by the heavily-armed militants and their ability to hold on to large sections of a city for weeks had surprised the government and the military and sparked fears among Southeast Asian governments that the Islamic State group was seriously moving to gain a foothold in their region.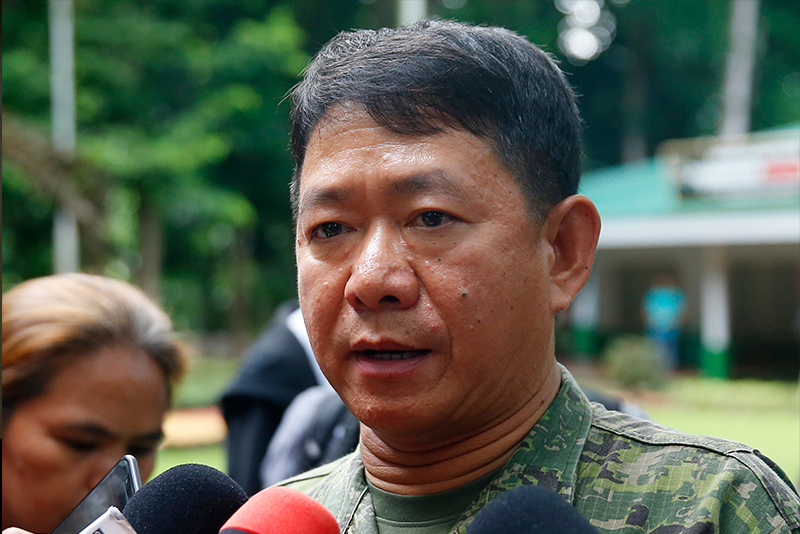 In this May 26, 2017, file photo, Philippine Armed Forces chief and administrator of Martial Law Gen. Eduardo Año talks to reporters during his visit to a military camp on the outskirts of Iligan city in southern Philippines. AP/Bullit Marquez, file
Australia said Friday the Philippines had accepted an offer of assistance. Defense Minister Marise Payne said Australia would deploy two AP-3C Orion aircraft to provide surveillance support to the Philippine military.
Philippine Foreign Minister Alan Peter Cayetano and his Malaysian and Indonesian counterparts met in a daylong closed-door meeting with top security officials in Manila Thursday to discuss the Marawi crisis. They agreed on a plan of action to combat terrorism and rising extremism and deal with the prospects of Asian fighters returning to their region from Syria and Iraq, where the IS group has been losing territory in a yearslong conflict.
Ano said that the battle in Marawi was taking longer than usual because the militants were using civilians as human shields and had no qualms destroying an entire city and killing anyone on their path.
"We can just bomb them away or use napalm bomb to burn everything, but then, we will not be any different from them if we do that," he said.
___
Associated Press writer Teresa Cerojano contributed to this report.