Widodo reaffirms commitment vs terrorism in call with Duterte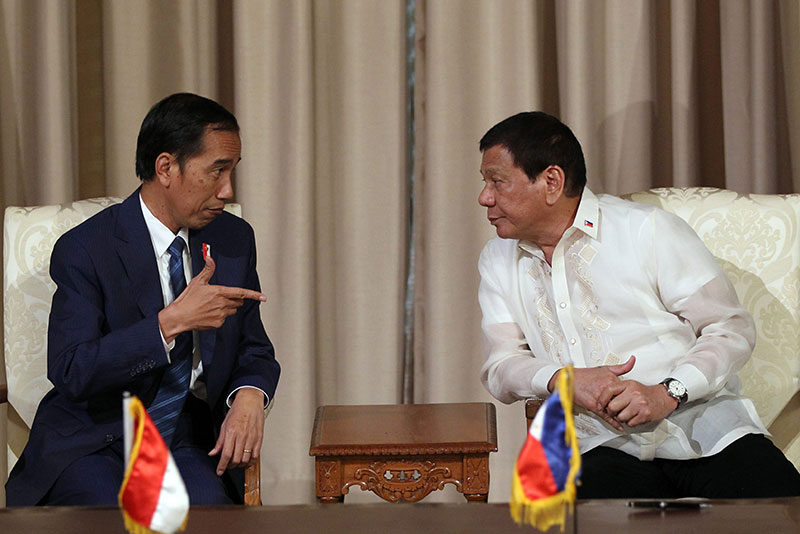 MANILA, Philippines — Indonesian President Joko Widodo called President Rodrigo Duterte on Wednesday evening to reaffirm his country's commitment to security cooperation amid terror threats in the region.
Presidential Spokesman Ernesto Abella said that the phone conversation between the two heads of state was productive and fruitful.
"They both reaffirmed the need to step up cooperation to address threats posed by terrorism and violent extremism," Abella said in a press briefing at Malacañang.
Both Duterte and Widodo noted the importance of the trilateral meeting between Indonesia, Malaysia and the Philippines that will be held in Manila.
Foreign Affairs Secretary Alan Peter Cayetano is scheduled to meet with Indonesian Foreign Minister Retno Marsudi and Malaysian Foreign Minister Anifah Aman on Thursday afternoon.
The trilateral meeting is expected to focus on fostering cooperation in countering terrorism in the neighboring regional states.
"President Widodo reaffirmed Indonesia's commitment to support the Philippines in countering terrorism including restoring peace and stability in the southern Philippines," Abella said, adding that Duterte welcomed the Indonesian leader's expression of commitment.
Duterte also assured Widodo that the Philippine government is committed to working closely with Indonesia and other like-minded states to address the issue of terrorism.
Earlier this week, the Philippines, Indonesia and Malaysia launched its trilateral agreement for patrols in the border areas in Indonesia, the Sabah area and the Philippines.
The joint cooperation between the three Southeast Asian countries aim to address the porous borders and ensure organized patrols that would prevent abductions at high sea.