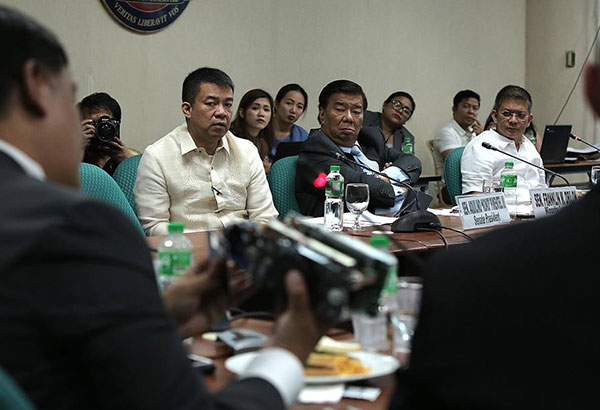 Senate President Koko Pimentel, Minority Leader Franklin Drilon and Senator Francis Chiz Escudero listen to the resource person during the hearing on the alleged data processing error of BPI. Senate PRIB
BPI: Programmer's lapse caused internal glitch
MANILA, Philippines — Ayala-led Bank of the Philippine Islands on Wednesday revealed that a programmer's seemingly innocent lapse in judgment caused the internal data processing error two weeks ago.
During a Senate inquiry into the alleged data processing error of the bank, Ramon Jocson, Head of BPI's Enterprise Services Group, said that the programmer responsible for the glitch has been reassigned to another unit while investigation is ongoing.
"This particular person has also owned up to committing the mistake, your honor. In terms of the investigation it's still ongoing because what we're looking at now are certain processes and protocols that we need to strengthen so that this will not happen again," Jocson told the Senate Committee on Banks, Financial Institutions and Currencies.
Jocson stressed that the error in judgment of the programmer was innocent and had no malicious intent.
LIVE: Senate probe into BPI, BDO glitches
The BPI executive also defended the programmer, who appears to be the particular person to blame for the incident which caused unauthorized transactions in some of their clients' accounts.
"I was a programmer once, I was young once... this particular person has been three years with us, she topped her programming class so there's always the zeal to be able to do things faster so I attribute this to a lapse in judgment," Jocson said.
The programmer entered a wrong date while trying to update a report from the internal system, causing the internal glitch in the country's third largest bank.
"On June 6, we needed to reconcile a report from May 26 to 29. Ang na-enter niya sa online system namin was April 27 to May 2. In effect, the balances were updated using transactions from April 27 to May 2 instead of June 6. These were all your transactions in the past, nabalik lang," Jocson said.
Jocson assured their clients that no banking data was leaked when the glitch hit its system.
"Never did transactions of one client cross to another client," the BPI executive added.
The internal glitch only affected transactions through automated teller machines, cash acceptance machines and point sale systems.
The bank suspended its electronic transactions for two days in able to correct the wrong posts on the clients' bank accounts.
RELATED: BPI apologizes for system glitch