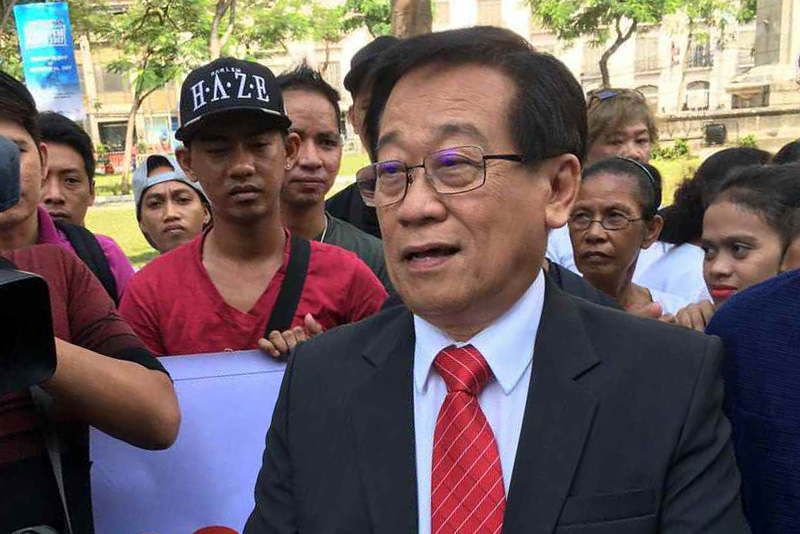 Romulo Macalintal, in picture, and Maria Bernadette Sardillo, Robredo's lawyers, said that former Sen. Ferdinand Marcos Jr. should shoulder the expenses COMELEC may incur in relation to his electoral protest. File
Robredo wants Marcos to shoulder Comelec expenses due to protest
MANILA, Philippines — Vice President Leni Robredo on Tuesday said that former Sen. Ferdinand Marcos Jr. should shoulder the costs that the Commission on Elections (Comelec) may incur because of his electoral protest.
In a Manifestation with Motion for Clarification, Romulo Macalintal and Maria Bernadette Sardillo, Robredo's lawyers, said that Marcos should be made to pay the billions of pesos that Comelec might have to shell out because of the Marcos protest.
According to the Comelec, through the Office of the Solicitor General, the cost of the protest could reach P2.08 billion because of the non-turnover of 97,365 vote counting machines (VCMs) before Dec. 1, 2016.
Comelec's assessment came after the Supreme Court, sitting as the Presidential Electoral Tribunal, ordered the poll commission to itemize the costs it may be required to pay under its automated election contracts.
"Noong naghain ng election protest si Marcos noong June 2016, isa sa mga hiniling niya ay ang pagsasagawa ng technical examination at forensic investigation ng mga VCMs," Macalintal said. "At ang mga VCMs na iyan ay iyong ginamit sa lahat ng 92,508 clustered precincts."
"Dahil sa ganitong kaganapan, linawin sana ng Comelec kung si Marcos nga ba ang magbabayad ng P2.08 bilyon," Macalintal said.
On Friday, Marcos, a losing vice-presidential candidate in last year's national election, listed three provinces for a pilot recount or revision, which he claimed would show that irregularities marred Robredo's razor-thin victory of only more than 200,000 votes.
Victor Rodriguez, a spokesperson of Marcos, said that Camarines Sur, Iloilo and Negros Oriental were chosen because these provinces would allegedly show the major discrepancies between the cast ballots and those transmitted by the VCMs and reported by the Certificates of Canvass.
For example, in the case of Camarines Sur, the home province of the vice president, Marcos claimed that it was impossible for Robredo to obtain more than 80 percent of the votes considering that all the other vice-presidential candidates had Bicolano roots.
Rodriguez, however, did not explain how Marcos, an Ilocano, was also able to get more votes than the other Bicolano candidates.
Macalintal retorted that Marcos was already resorting to "false testimonies" in coming before the PET as he and Sardillo emphasized that amid all the issues the vice president's victory was the truth.
"With due respect, Marcos must come before the Honorable Tribunal certain, at the outset, of his cause and able to prove it, and certainly without resorting to false testimonies," a statement from the Robredo lawyers said.
Macalintal also divulged that COMELEC was incurring at least P5.62 million per month for the lease of a warehouse in Sta. Rosa, Laguna and other related expenses.
"If only to avoid confusion on who will be liable for these amounts, we are constrained to seek a clarification," Macalintal explained in filing their motion.
Marcos is the son of the late Philippine dictator whose rule was riddled with accusations of corruption, human rights abuses and assault on democracy.