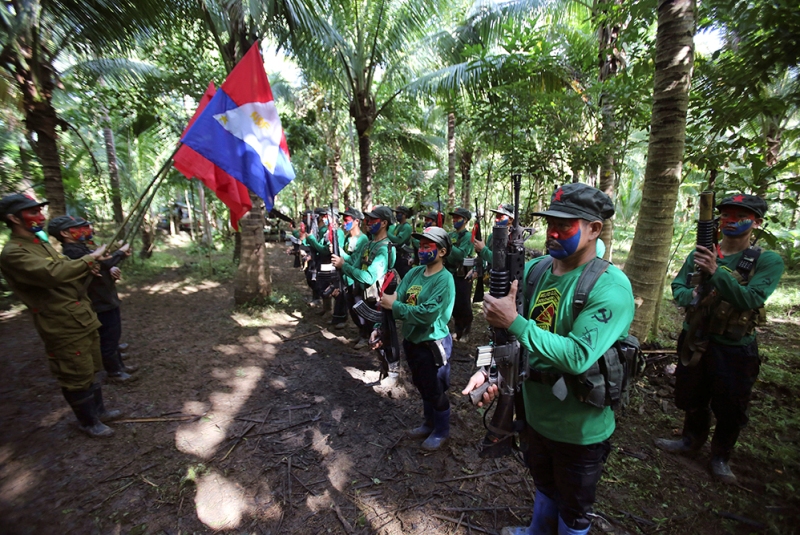 "As of this moment, there is no instruction from the President to discontinue the government's peace negotiations." AP/File photo
No word from Duterte to stop peace talks with Reds, says Palace
MANILA, Philippines — The peace talks with the communist rebels will continue despite calls by some senators to defer the negotiations in light of the recent raid of a police station in Iloilo
"As of this moment, there is no instruction from the President to discontinue the government's peace negotiations," Presidential Spokesman Ernesto Abella said in a press briefing on Tuesday in Malacañang.
Prospero de Vera, an adviser to the government panel negotiating with the National Democratic Front (NDF), said continuing the peace talks has its advantages. The NDF negotiates with the government in behalf of the communists.
"We should never lose hope that a peace agreement can be signed. But it must always be within the parameters of having a conducive environment for peace talks," De Vera said.
"That's why in the last round, in the fifth round, the President instructed the peace panel not to continue with the negotiations because the environment for conducive negotiations was not present," he added.
Asked if has doubts about the rebels' sincerity, De Vera said: "Well, we will have to keep on telling them and asking them why, in spite of their pronouncements, clashes still happen on the ground. They have to be the one to answer that."
The government suspended the fifth round of talks with the NDF after the Communist Party of the Philippines (CPP) ordered its armed wing the New People's Army (NPA) to intensify attacks against government forces implementing the martial law in Mindanao.
Last Saturday, the NDF asked the NPA to refrain from launching offensives against the police and the military in Mindanao so they can concentrate on their campaign against the terrorist groups. The government reciprocated the declaration the following day.
The peace process, however, faced another irritant when about 50 NPA members attacked the Maasin Municipal Police Station in Iloilo City last Sunday and seized firearms, a laptop, a base radio, cash and jewelry.
While the incident did not happen in Mindanao, the government was disappointed by what it described as the "opportunistic" attack.
Some senators have asked the Duterte administration to put on hold the peace talks with the communists as they expressed doubts on the rebels' trustworthiness and their capability to control their ground forces.
Sen. Panfilo Lacson cited the need for a clear proof that the NPA can still be controlled by the communist leadership. Sen. Joseph Victor Ejercito said it is already hard to trust the rebels following last Sunday's attack in Iloilo.