Authorities secure houses, establishments cleared from Maute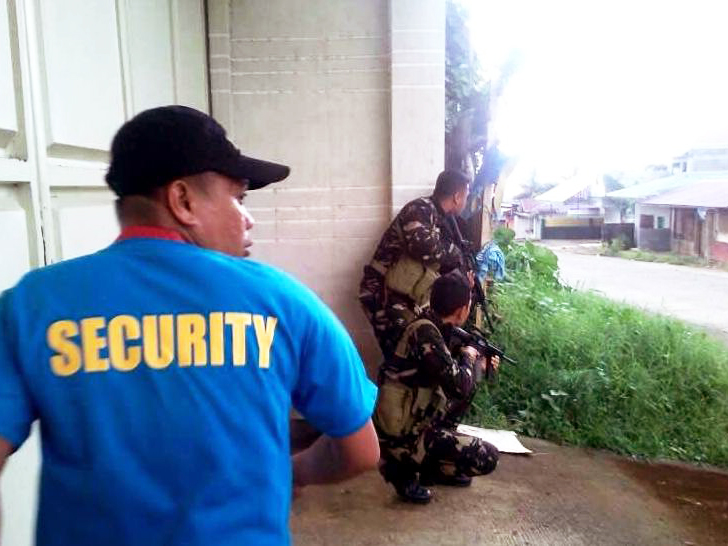 LANAO DEL SUR, Philippines — Authorities have started securing abandoned houses and establishments in Marawi City soldiers have cleared from terrorists.
The security unit of the office of Lanao del Sur Gov. Soraya Alonto-Adiong, the police and the military have fused ranks to protect whatever is left in buildings Maute and Abu Sayyaf gunmen looted as they laid siege in the city.
Salma Jayne Tamano, provincial information officer of Lanao del Sur, said on Tuesday that the security initiative was launched on June 18, in coordination with military commanders overseeing ongoing counter-terrorism operations in Marawi City.
"The gates of residential compounds and the doors of houses and establishments in areas subjected to the security mission were shut after thorough inspection by officials supervising the operation," Tamano said.
The Provincial Security Force (PSF), comprised of personnel trained in protection services for public officials and government properties, is documenting on video their efforts to secure abandoned buildings.
The operation is being monitored by the provincial crisis management committee led by Lanao del Sur Vice Gov. Mamintal Adiong Jr.
"The intention is to protect whatever belongings of the owners of these abandoned houses and establishments are left. Full protection cannot be absolutely guaranteed but somehow this can help," Tamano said.
Maute and Abu Sayyaf gunmen now combined in the fanatical Dawlah Islamiya ransacked houses and commercial establishments in areas where they showed force and displayed the flag of the Islamic State of Iraq and Syria immediately after the May 23 outbreak of hostilities in Marawi City.
The deadly incursions, led by siblings Omar and Abdullah Maute and Abu Sayyaf leader Isnilon Hapilon, displaced more than 200,000 villagers now in squalid evacuation sites and in houses of relatives in safe areas outside of Marawi City.
Many areas in Marawi City were devastated by conflagrations as a consequence of the encounters between terrorists and combined units of the Armed Forces of the Philippines and the Philippine National Police.
The country director for Philippines of the United Nations Development Programme (UNDP), Titon Mitra, discussed with provincial officials and Marawi City Mayor Majul Gandamra on Monday the prospects of cooperation on recovery and rehabilitation programs for internally displaced people (IDPs) now suffering from the brunt of a conflict instigated by local terrorists.
The spokesman of the Lanao del Sur provincial crisis management committee, Assemblyman Zia Alonto Adiong of the 24-seat Regional Assembly in the Autonomous Region in Muslim Mindanao, said they are thankful to the UNDP for reaching out to the conflict-stricken communities in Marawi City.
Marawi City is the capital of Lanao del Sur, a component province of ARMM, whose regional government is also extending relief and rehabilitation services to IDPs through its Humanitarian Emergency Assistance and Response Team.
"We are very grateful to the United Nations and other international organizations like the International Committee of the Red Cross for coming in to help," the ARMM lawmaker said.