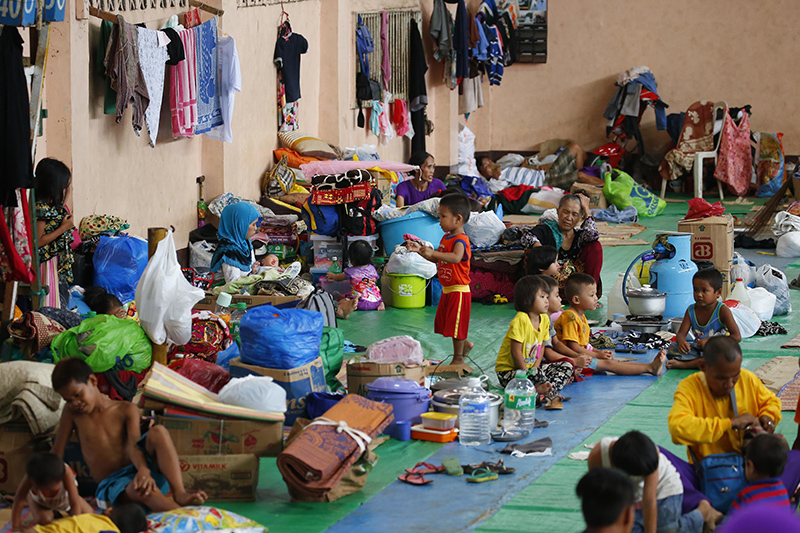 According to Vice Gov. Haroun Al-Rashid Lucman of the Autonomous Region in Muslim Mindanao (ARMM), trauma therapists have recommended the distribution of toys to children now in cramped conditions at evacuation centers. AP/Bullit Marquez, File
Toys help child evacuees deal with trauma
John Unson
(The Philippine Star) - June 19, 2017 - 4:00pm
LANAO DEL SUR, Philippines – Officials yesterday started soliciting old toys as "trauma treatment" for displaced children from Marawi City to ease the tension affecting their young minds.
According to Vice Gov. Haroun Al-Rashid Lucman of the Autonomous Region in Muslim Mindanao (ARMM), trauma therapists have recommended the distribution of toys to children now in cramped conditions at evacuation centers.
"There are non-government organizations and peace-advocacy groups that can help us out on this. Any help shall be highly appreciated," said Lucman, who is also a Maranao and ARMM's social welfare secretary.
"We are knocking on the hearts of parents and children in peaceful regions to donate used toys, but not toy guns or anything of the sort," added ARMM health secretary Kadil Sinolinding Jr.
Meanwhile, the Department of Public Works and Highways (DPWH) is constructing additional health and sanitation facilities in evacuation centers to avert the spread of communicable diseases there.
Sinolinding said lack of potable water and improper disposal of human waste are the health issues in evacuation centers.
Don Loong, secretary of DPWH-ARMM, said sanitation engineers inspected over the weekend the evacuation sites in Lanao del Sur and planned on-site the construction of more toilets and water supply facilities that evacuees need.
Among those immediately provided with health and sanitation interventions were evacuees in relief centers in Lanao del Sur that are not too distant from Marawi City.
Marawi City is the capital of Lanao del Sur, which has 39 towns divided into two congressional districts.
Loong said the District Engineering Office in the first congressional district of Lanao del Sur, which also covers Marawi City, will help oversee their sanitation initiatives in evacuation centers.
"We are very thankful to the ARMM public works department for helping address these problem," Sinolinding said.
VP Leni to give livelihood, food
Meanwhile, the Office of the Vice President (OVP) plans to give sewing machines to women evacuees to help bring back a sense of normalcy to their lives.
Georgina Hernandez, spokesperson for Vice President Leni Robredo, said a day before the fighting erupted on May 23, women weavers from Marawi City received financial assistance worth P100,000 from the OVP's Angat Buhay partners for the purchase of handlooms and other materials to boost their income.
"Unfortunately, they were not able to do that. When we talked to them, they told us that they want to push through with the (program)," Hernandez said in an interview in Iligan City over the weekend after visiting evacuees, including a group of women weavers.
"Together with our partners, we'll provide them with sewing machines and fabrics so they can have finished products hopefully in time for Eid'l Fitr on June 26.
"That's our target before, to provide them with livelihood... we want them to have a sense of normalcy," she added.
Hernandez said women weavers requested for livelihood assistance from Robredo during the Vice President's visit to Marawi last March.
The OVP also sent around 5,000 packs of food and non-food packs to Lanao del Sur on Sunday morning.
The packs, which are being provided in partnership with Xavier University, contain three kilos of rice, noodles, canned goods, energy drinks, crackers and sanitary napkins.
The relief packs are intended for evacuees in Saguiaran, Balo-i and Iligan City.
Since May 23, the armed clashes in Marawi have left thousands of people homeless. ARMM Gov. Mujiv Hataman said last week the provincial government still has about P50 million for relief and rehabilitation efforts for displaced people from Marawi City. – With Michael Punongbayan, Helen Flores